PROVO — Two months after Typhoon Haiyan devastated the Philippines, groups from around the state will converge Saturday to raise money to support those affected.
Run4Philippines is hosting several fundraising activities, including 5K and 10K races down Center Street with a polar bear plunge at the finish line, a concert and hot air balloons. The events will also feature food from around the world.
The activities benefit several Utah-based charities currently working to support the relief efforts, including Globus Relief International, HELP International and the Philippine Improvement Group.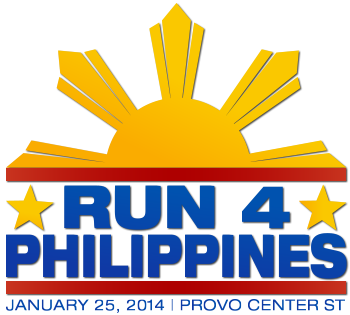 "This is a statewide effort to get everyone involved at the same time," said event organizer Jaron Gallagher. "It's kind of symbolic to be running during the winter — to make a sacrifice for those who have lost their homes. This gives everyone an opportunity to make a difference."
"Sometimes people don't know where to donate. We ensure that one hundred percent of donations go straight to the Philippines."
Those who are unable to attend can still donate through Run4Philippines.com. The 5K and 10K runs both begin at 1:00 p.m. Saturday at 45 East Center St. in Provo.
The proceeds from the events will be distributed by volunteers in the Philippines under the direction of Chris Gallagher and HELP International. In a statement, HELP International described the methodology for the relief efforts:
Based on research and contacts made thus far, we anticipate investing time, money, and efforts in the following areas:

Debris removal and clean up
Securing portable water filtration systems to families lacking safe drinking water
Helping parents start small forms of income generation and self sufficiency
Restoring schools, community centers, homes, or playgrounds
Equipping families with simple solar lanterns in areas destitute of electricity

Disaster relief requires a different approach than that of long term development. Sending a team of foreign volunteers in the immediate aftermath of a disaster of this nature can often be an added strain on communities and even harm recovery.

We recognize foreigners need to be fed, housed, kept safe, etc. Immediately after the storm the most pressing needs were medical attention and food aid. Arriving on site seven months later, as Chris' team will be doing, these immediate relief operations will be over in many areas, allowing us to develop more long-term grass-root recovery and rebuilding programs.

In efforts to stimulate local economies that are in slow recovery, all supplies will be purchased locally.
Anyone interested in joining those on the ground for one, two, or three months in the Philippines can apply at help-international.org.
×
Related Links