This archived news story is available only for your personal, non-commercial use. Information in the story may be outdated or superseded by additional information. Reading or replaying the story in its archived form does not constitute a republication of the story.
*Courtney Orton and Lori Prichard reporting*Warning: video contains graphic pictures
A St. George woman is recovering from a go-cart catastrophe in which the machine ripped the hair from her head!
The accident happened before Dawn Tiatia even crossed the starting line at the go-cart track in St. George. Now, weeks later, she is recovering from what is most possibly the worst day of her life. We must warn you, if you watch the video, one brief picture of the injury may be disturbing.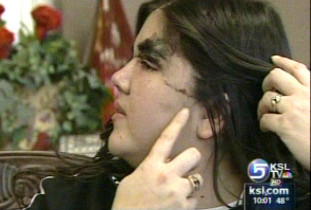 It was a Saturday night and Dawn Tiatia was celebrating her daughter's ninth birthday at Fiesta Fun with family and friends, when a seemingly normal go-cart ride took a drastic turn for the worse.
"Started screaming 'cause I knew something was wrong. My husband was the first one that came to my side. I had reached up and touched my head. It was completely slick and full of blood, and I knew that it was bad," Dawn said.
Dawn's husband, Liahona, couldn't even recognize her when he got to her side. Her hair, her skin and her left ear had been ripped off when her long hair got tangled in the go-cart's moving parts. "It was blood everywhere, and all I could see was her skull," he said.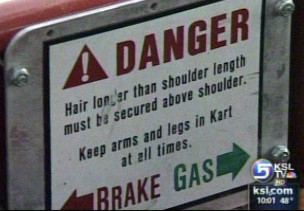 It took scissors to get her hair out of the drive shaft. A brave Dawn called out to her daughter. "I was just trying to call out to my daughter to let her know that I was OK and was going to be all right," she said.
Dawn was rushed to the hospital and, after more than 50 staples and extensive plastic surgery, doctors say she'll make a full recovery.
Fiesta Fun tells us a warning was on the go-cart Dawn was riding. But Dawn thinks more needs to be done to ensure this doesn't happen to anyone else.
Dawn said, "No matter how long or short someone's hair is or what kind of clothing they are wearing, they need to be safe. If anybody would have mentioned, you know your hair really is rather long, you might want to consider pulling it back. I didn't even think about it."
We spoke with the owner of Fiesta Fun today off camera. He told us this was an extremely unfortunate accident that he feels horrible about. He also told us the company takes the safety of its customer very seriously.
You may think this is just a freak accident. We did, until we did some digging and found out this type of injury on a go-cart is not unheard of. The injury is common enough that the Consumer Product Safety Commission issued a warning for riders to immediately stop using these types of go-carts until they can be retro-fitted because of this very problem. Women and children were literally having the hair on their heads ripped off.
That warning was issued more than two years ago, but the injuries keep coming. Nearly a year ago, Faye Brown and her husband were out at a Seattle area track riding go-carts when something went terribly wrong.
Faye's husband, Greg Brown, said, "She had really long black hair down to her rear end. Her whole bare-bones skull was exposed. It was gone all the way to the skull."
Faye's head of hair was completely ripped off when it got caught in the back engine of a go-cart.
The same thing happened to Seattle resident Shawna King. "The rear axle just caught me and pulled me up and over the left side of the seat and ripped my scalp off," she said.
Shawna, Faye and now Dawn aren't the only ones. There have been reports from New York all the way to South Africa of this very thing happening to young girls and women with long hair at go-cart tracks. Most have survived, with the exception of a 13-year-old Idaho girl who died from her injuries.
That has Dawn TiaTia's lawyer calling for changes. Matthew Graff said, "See if we can't get some change in the safety regulations, some change in the way these are manufactured, some change in the warnings."
It's nearly the same pledge Greg Brown made a year ago. "We're going to do everything we can to find out what happened, what went wrong and to make sure it doesn't happen again," he said.
But, of course, it did.
We went to FastKart Indoor Speedway in Salt Lake City today to find out how you can avoid these types of accidents. They suggest wearing a hair net, period, man or woman. Second, make sure your helmet is fitted to you so that loose hair doesn't fall out. Don't wear loose clothing of any kind. And, finally, look at the go-cart to see if it has an axle cover, chain cover and engine cover; all of these things will help prevent anything being sucked into the go-cart.
×