Estimated read time: 4-5 minutes
This archived news story is available only for your personal, non-commercial use. Information in the story may be outdated or superseded by additional information. Reading or replaying the story in its archived form does not constitute a republication of the story.
PROVO — Selfie picture takers beware: the Selfie Police have put you on notice.
For each selfie someone takes they can face a $1 fine to be donated to charity, thanks to a website launched by two Brigham Young University students Tuesday. Selfie Police invites people to pay up for past selfies and report friends.
"When we first came up with the idea we were trying to think of how to engage our generation in giving," said co-creator Chas Barton. "It's tricky because we're such a selfish generation, so the question we asked was not how do we make our generation charitable, but how do we turn selfishness into charity. That's where Selfie Police was born."
People posting pictures of themselves are being fined $1 on charges of self obsession, the website states. Offenders are then invited to join the "Selfie Police" themselves and call out friends with the hashtag #selfiepolice on Instagram, Facebook and Twitter.
#poll
Selfie Police received about 100 donations in its first two days of operation, raising more than $1,000. At a time where the word "selfie" was dubbed the 2013 word of the year by Oxford Dictionaries and hashtags like #selfieolympics trend on Twitter, the Selfie Police team think there is a lot of potential to go viral and do good.
"(The) Overall vision is nationwide. Whenever people see a selfie the first thing they think of is 'oh, I've got to bust them.' Or beyond that, where everyone thinks if they're going to post a selfie they automatically go and pay a dollar to charity," said co-creator Dustin Locke.
All of the fines go directly to the non-profit Vittana through a PayPal link on the Selfie Police website. Vittana is an organization that gives loans to students in developing countries as part of a perpetual eduction system to help them lift themselves out of poverty.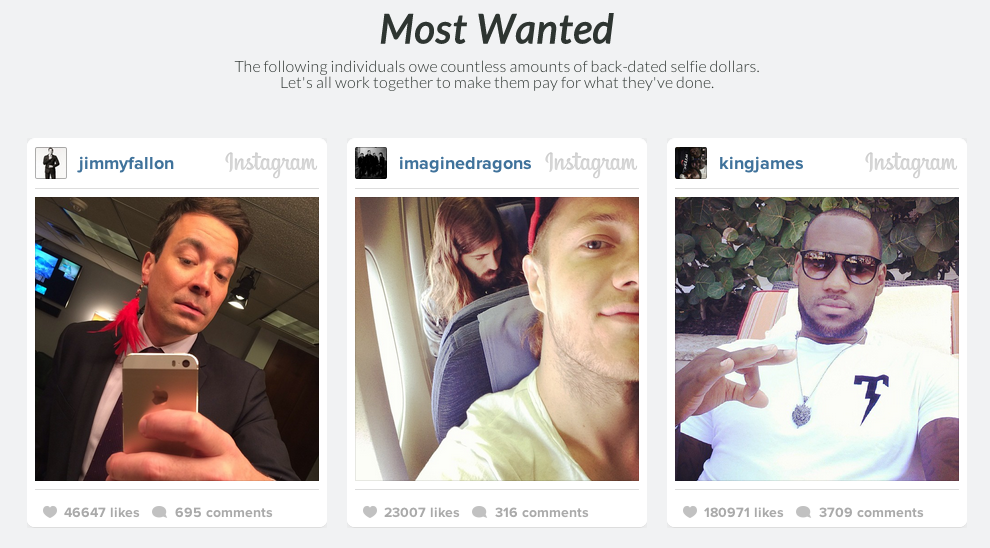 "We decided they were a prime organization to donate to because it's all focused on our generation, who is walking around with $600 self-indulgent devices in our pockets," Barton said. "We want to engage our generation in helping other kids our age dealing with the same sorts of issues, trying to go to college and school, but who just don't have the same opportunities we do."
After amassing an army of raving fans who love the idea of policing selfies for good, the Selfie Police want to take down celebrities to make serious money. Celebrities featured on their current "Most Wanted" list include Jimmy Fallon, Imagine Dragons and LeBron James.
"These are people who have countless amounts of backdated selfie dollars, so that's going to be a lot of fun," Barton said.
The creators of Selfie Police themselves have a history of selfies and have since come clean. Even their advertising advisor at BYU who didn't think he had any selfies paid up when he found one.
Related Story
"I have posted a few selfies and I have paid for them all," Barton said. "I went through and tagged my selfies and paid for them on the site. I am paid up to date, but you know, another day another selfie."
Locke and Barton came up with the idea for Selfie Police during a 24-hour creativity competition and started working on the site in October. The project was originally named Selfie Jar, but at 3 a.m. on the day of their launch inspiration struck and they decided to change the name and entire design of the website.
Since then they said they have received a lot of support and were able to enter the conversation with people using hashtags like #selfiepolicearecoming and #dontfindmeselfiepolice.
"How to create charity for a millennial audience is an interesting problem to solve," said advisor Jeff Sheets. "So to find a relevant culture touch point like a selfie and if you could make that branded into a moment of reflection — to say 'wow, there are others in the world who are not as fortunate as I am, so I will continue to take my selfies, but now as I do I'm going to think of someone and pay a buck' — that's a pretty awesome concept creatively to help people remember how blessed they are."
The team said sometimes people are hesitant about the idea of posting selfies, but that they have had fun teaching people it can be OK to do it for charity.
"Anyone can be a selfie person now," Locke said.
×
Photos
Related links
Most recent Utah stories