Estimated read time: 4-5 minutes
This archived news story is available only for your personal, non-commercial use. Information in the story may be outdated or superseded by additional information. Reading or replaying the story in its archived form does not constitute a republication of the story.
VERNAL — A Guatemalan man accused of killing his cousin in Uintah County wants his statements to investigators thrown out, claiming language barriers and cultural differences kept him from fully understanding his decision to waive his Miranda rights.
Jose Eduardo Leiva-Perez, 33, also claims that he only implicated himself in the beating death of David Urrutia, 38, because detectives promised to help him if he told them what they wanted to hear, according to defense attorney Greg Lamb.
David Urrutia's murder
During a suppression hearing Tuesday, Leiva-Perez testified that he told Uintah County Sheriff's Sgt. Leonard Issacson and FBI agent David Ryan that his cousin was already injured when he found him inside the Fort Duchesne mobile home they were sharing in early January.
"When I got there, the accident had already occurred," Leiva-Perez testified with the assistance of an interpreter. "I told (Issacson and Ryan), but they didn't believe me."
Before the police interview, Leiva-Perez told a family member three men had come to the trailer and beaten Urrutia with baseball bats, and that he had been able to escape, according to court records. The relative told investigators Leiva-Perez also claimed Urrutia had been taken to an area hospital for treatment.
---
"When I got there, the accident had already occurred," Leiva-Perez testified with the assistance of an interpreter. "I told (Issacson and Ryan), but they didn't believe me."
---
After speaking with Leiva-Perez, the relative called the sheriff's office Jan. 7. A deputy tasked with checking on Urrutia's welfare found him dead inside the trailer.
In court records, investigators wrote that the trailer was too small to be occupied by five grown men at the same time, as Leiva-Perez had claimed. They also noted that neither the hospitals nor the ambulance services in the area had any record of treating Urrutia.
An autopsy determined Urrutia died after being struck three times in the head with a blunt object, which investigators believe was a metal bar. It also showed Urrutia had no defensive wounds, was probably "lying on the couch/bed in the trailer" when he was attacked, and "would not have been aware that the assault was about to take place," court records state.
A distrust of police
A U.S. Marshals task force arrested Leiva-Perez in California 10 days after Urrutia's body was discovered. Leiva-Perez testified Tuesday that he was shocked with a Taser at least a half-dozen times, thrown to the floor and kicked during the arrest after he tried to elude agents by hiding in a bathroom.
After that, Leiva-Perez was returned to Utah, where he was questioned by Issacson and Ryan, who was asked to take part in the interview because he speaks Spanish.
A transcript of the interrogation shows that a Miranda warning was given in Spanish at the outset of the interview. But Lamb argued Tuesday that his client didn't "knowingly and voluntarily" waive his rights, because Leiva-Perez didn't fully understand what he was agreeing to give up.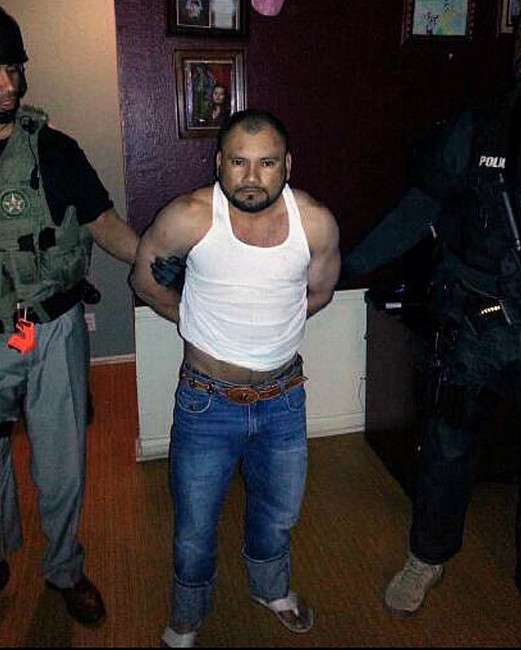 #levia-perez_pic
Based on his own testimony, Leiva-Perez only has a third-grade education and was raised in a rural part of Guatemala. He also testified that many people in his native country are fearful of the police, and believe that officers abuse the uneducated and the poor.
But under cross examination from Uintah County Attorney G. Mark Thomas, Leiva-Perez admitted that his only personal contact with police in Guatemala was an arrest for intoxication, and that he spent only five days jail for that offense.
"Have you ever been manipulated by a police officer in Guatemala?" Thomas asked.
"No," Leiva-Perez replied through an interpreter.
"So you have no personal reason to distrust police officers in Guatemala?" the prosecutor asked.
"No," Leiva-Perez said.
Thomas also dismissed defense claims that investigators in Uintah County attempted to manipulate Leiva-Perez by promising him more lenient treatment if he confessed to killing Urrutia.
"What they told him was, 'Our report will reflect that you were truthful,'" Thomas said.
Lamb argued though that even that seemingly innocuous statement by police could be construed as coercive, based on Leiva-Perez's cultural background. He called Utah State University political science professor William Furlong to testify about the general public's perception of police in Latin America.
"The concept of 'rule of law' is not strong in the way we would think of it here," said Furlong, who holds a doctorate in Latin American studies and has traveled extensively in Central and South America.
"If I were to say, 'I know the judge, and I can get you off,' that's a believable promise (in Guatemala)," the professor added.
Furlong acknowledged under cross examination, however, that he has never visited or studied the part of Guatemala where Leiva-Perez grew up, and could not attest to allegations of police or judicial misconduct in that region of the country.
Judge Clark McClellan declined to rule immediately Tuesday on the motion to suppress Leiva-Perez's statements to police. He told the attorneys he plans to announce some of his findings at a Dec. 17 hearing and then allow them to file additional motions, if necessary.
Leiva-Perez, who is charged with murder, has been deported from the United States at least once before, and was in the country illegally when Urrutia was killed. He remains in the Uintah County Jail, where he is being held without bail.
Email: gliesik@ksl.com
×
Photos
Related stories
Most recent Utah stories