Estimated read time: 5-6 minutes
This archived news story is available only for your personal, non-commercial use. Information in the story may be outdated or superseded by additional information. Reading or replaying the story in its archived form does not constitute a republication of the story.
Taylor Swift arrasó con cuatro premios en la ceremonia de los American Music Awards, incluyendo artista del año por tercera ocasión, con lo que impuso un récord en esa categoría. Marc Anthony ganó artista latino favorito y Jennifer López brilló con un espectacular homenaje a la Reina de la Salsa, Celia Cruz.
Swift obtuvo también los premios a álbum country favorito por "Red", artista country y artista pop/rock favorita.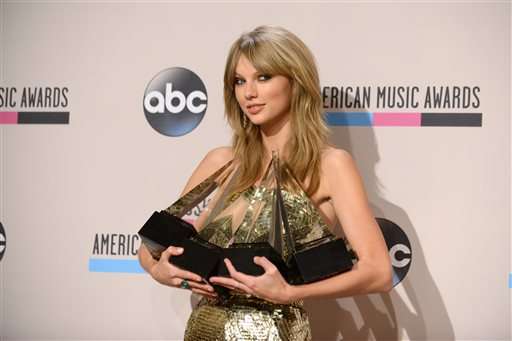 "Realmente estoy sin aliento", dijo la estrella de 23 años al subir al escenario en un minivestido de lentejuelas. "Realmente estaba sumida en eso del `Wrecking Ball'", añadió tras la actuación de cierre de dicho tema por Miley Cyrus.
"`Red' es muy diferente a cualquier álbum que haya hecho antes y la razón por la que pude hacer eso fueron los fans", recalcó Swift. "No puedo creer lo que ustedes hicieron el ultimo año. Este disco salió hace casi exactamente un año y el hecho de que 6 millones de ustedes salieron a comprarlo es una locura".
Justin Timberlake le siguió de cerca con tres estatuillas, a artista pop/rock, artista soul/R&B y álbum de soul/R&B favorito, por "The 20/20 Experience". One Direction y Macklemore & Ryan Lewis ganaron dos premios y Rihanna recibió el primer premio Icono, junto con el AMA a la artista favorita de soul/R&B.
"Dicen que el que uno esté vivo no significa que uno esté viviendo", dijo Marc Anthony al aceptar su galardón.
"No se olviden de vivir", añadió el superastro de origen puertorriqueño, quien recibió el galardón de manos del rapero cubano Pitbull, el primer anfitrión de los AMA en años.
López, en tanto, dejó boquiabiertas y de pie a las estrellas pop del momento con su popurrí de los éxitos de Cruz "Quimbara", "La vida es un carnaval" y "La bemba colorá".
El acto comenzó con la estrella sola en el escenario con un amplio vestido negro brillante que pronto se quitó para revelar un colorido vestido con falda de volantes y luego un ajustado corpiño platinado.
Decenas de bailarines ataviados en trajes de vivos tonos la acompañaron, incluido el astro de "Dancing with the Stars" Maksim Chmerkovskiy, que tras bailar salsa con López terminó alzándola sobre sus brazos estirados, con ella en posición completamente horizontal.
"¡Azúcar! ¡Azúcar!", gritó en un momento López durante el show. "¡Arriba Celia!", agregó al final ante un público que se puso de pie para ovacionarla con caras de asombro por su energía.
A mitad de la ceremonia, en el Teatro Nokia de Los Angeles, Rihanna recibió el premio Icono de manos de su madre, Monica Fenty.
"¿Podemos hablar de lo dulce que es la mamá de Rihanna?", preguntó Justin Timberlake cuando subió a aceptar el tercero de sus reconocimientos, antes de decir con un acento caribeño. "Ella está tan orgullosa del Icono. Yo también, Rihanna, te quiero".
Fenty le dijo a Rihanna lo orgullosa que estaba de su éxito.
"Sé que el camino en tu Carrera no siempre ha sido fácil", le dijo a su hija.
"Hace unos 20 años comencé a hacer de tu vida un infierno con mi fastidiosa voz de hombre ronco, como le decías", dijo Rihanna al interpretar "Diamonds" con una orquesta. "Y fastidiaba a todo mi barrio. Westbury Road, Barbados, ellos les pueden decir que es verdad. Molestaba a cada uno de mis vecinos (cantando)".
Entre otros ganadores, la estrella de Nickelodeon Ariana Grande fue nombrada artista nueva favorita, Florida Georgia Line ganó sencillo del año por "Cruise" con Nelly, Luke Bryan artsita country favorito, y Macklemore & Ryan Lewis artista y álbum favorito de rap/hip, quienes no estuvieron presentes pero enviaron un mensaje de tolerancia vía satpelite, pues se encuentran de gira.
Ben Haggerty, el rapero conocido como Macklemore, citó a Martin Luther King Jr.
"Debido a que estamos en Florida esta noche aceptando este premio quiero reconocer a Trayvon Martin y los cientos y cientos de chicos que cada año mueren por odio y violencia racial", expresó. "Esto realmente está sucediendo. Estos son nuestros amigos, nuestros vecinos, nuestros pares y nuestros fans, y es hora de que cuidemos a los jóvenes y luchemos contra el racismo y las leyes que lo protegen".
Florida se convirtió en un punto focal luego que quien mató a Martin fue liberado bajo la ley estatal que justifica la fuerza mortal de los ciudadanos en caso de una amenaza.
La noche fue también una con sabor latino. Además del show de López y el premio a Marc Anthony, quien estaba nominado con Romeo Santos y Prince Royce, Pitbull ofreció un encendido espectáculo con Ke$ha. Y, entre los presentadores, estuvieron Zoë Saldaña y Daisy Fuentes.
Katy Perry inauguró la ceremonia con su nuevo sencillo "Unconditionally". La estrella pop lució como una princesa salida de una pintura japonesa mientras bailarines en coloridos atuendos tocaban tambores y ondeaban ventiladores frente a pantallas con papel de arroz.
El show contó con actuaciones de Timberlake, One Direction, Luke Bryan, Florida Georgia Line y Macklemore & Ryan Lewis.
Lady Gaga y R. Kelly montaron una elaborada producción para su tema "Do What U Want", actuando como si fuera un romance presidencial. Kelly hizo de presiente y Gaga de amante, a lo Marilyn Monroe. Kelly miraba hacia arriba a Gaga mientras ella bailaba sobre su escritorio, y luego se esfumó mientras un actor que hacía de reportero lo perseguía para preguntarle sobre la relación.
La encargada de cerrar la velada fue Cyrus, quien esta vez sorprendió al no hacer nada muy sorprendente. Sólo cantó su éxito "Wrecking Ball" parada en un escenario con un diminuto traje estampado con gatitos, mientras una pantalla mostraba al fondo a enorme gato animado moviendo los labios como si cantara con ella, durante toda su actuación.
×
Photos
Most recent News stories