Estimated read time: 5-6 minutes
This archived news story is available only for your personal, non-commercial use. Information in the story may be outdated or superseded by additional information. Reading or replaying the story in its archived form does not constitute a republication of the story.
SALT LAKE CITY — The stories of homelessness are humbling, often scarred with despair.
"There ain't no way to describe how hard it is out here," panhandler Jennifer Gailey told KSL News.
Day after day, homeless and hungry, jobless and stranded, they are begging for your help. So what would you do if the food you generously gave was tossed to the side?
What would you think if they appeared to be faking an injury?
What would you say if, at the end of the day, a car would be waiting for them to jump in and drive off?
For people like Tom Jager, it doesn't sit well. He said he's witnessed the business of begging firsthand.
Jager said he saw a car dropping off a crew of panhandlers in the morning and picking them up at the end of their shift. He confronted one of the organized panhandlers, who he said openly admitted to being in the business of asking people for money.
"And I said, are you really even homeless? And she goes, 'No. We have a house,'" Jager said. "I said, 'You're basically running a business where you're asking people for money?' And she goes, 'Yeah, basically.'"
But they can't all be scamming us, can they? What kind of person would say they had cancer if it weren't true?
Who would have the heart to pull out pictures of their kids if the money was not going to be used for them?
And who would go through the humiliation and ridicule of begging for money if they weren't in dire need?
One homeless couple confessed, "people drive by you, throw stuff at you, call you names, you know?"
Jamie and Robert
Their story:
Jamie and her husband, Robert, told the KSL investigative team they have been on the streets since he was involved in a head-on collision. As Jamie said, life since then has been especially hard.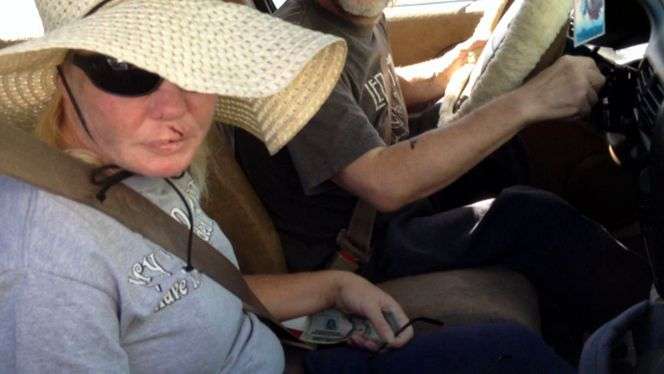 "(The) first week I cried," Jamie said. "I mean, I didn't want to go and do this. But it was our last resort and everything ... it's just embarrassing."
With her husband's injuries and the medical bills, Jamie said she and Robert were forced out of their home and had to send their two young daughters to family out of state.
"I just miss them," she said. "I miss them a lot."
On cardboard their story checks out, but if you knew their history would you still give them cash?
What KSL found:
Between the two, Jamie and Robert have 15 years of felonies and arrests — including theft, burglary, forgery, DUI and the use or possession of drugs.
When asked about their past, they appeared to be pretty honest, saying it was a long time ago. But it seems bad habits are often tough to shake.
Within two weeks of our interview, both were arrested and charged with drug crimes. Robert said "it's been a struggle since we've been out here trying not to go back down that road, because it's so easy to try and escape and just not worry about all the crap."
Gary
His story:
More than a year ago, 53-year-old Gary said he could stand on his own. Then he was struck by a hit-and-run driver; the accident caused serious damage to his leg.
"What I'm saying is I can't walk," Gary said. "And if I try to walk, I may end up falling, going into the street again."
"I wish I wasn't in this situation, but a lot of people don't believe I've got a broken leg," he said.
Still, Gary has the police report, the X-rays, even the medical bills to prove it.
What KSL found:
But during our investigation, KSL cameras recorded video of Gary doing just what he said he couldn't do: he was walking.
More than that, Gary's problems date back nearly two decades before the accident. He's been arrested or cited more than 70 times, including convictions of theft, criminal trespassing and three counts of sexual battery.
Mentally, Gary's told the courts he is bipolar and schizophrenic. In at least two cases, the judge ordered a mental examination.
Daniel and Ashley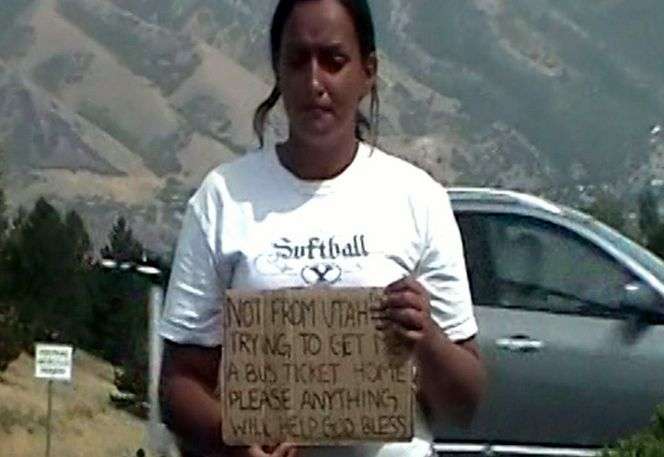 Their story:Panhandlers like Daniel and his girlfriend, Ashley, are very convincing as to how they use their money. They say they use it to buy food and rent a room, that's it.
"Some days I would get the money just to have a motel," Daniel said, "just to have someplace to sleep; and I wouldn't even eat."
So the KSL investigative team watched Daniel for a couple of weeks. From the beginning, his story raised some questions: for someone begging for money, he spent a lot of time texting on a smartphone. He was also asking for food, but then throwing it away.
When we followed Daniel to a Salt Lake City house, it appeared to be a complete scam — until we watched him get into uniform at his new job: cleaning cars.
Just like that, Daniel was off the corner, staying with family and no longer begging for cash.
What KSL found:
But in addition to working, cleaning, scrubbing and vacuuming at a car wash, police say Daniel was also robbing.
Just a few weeks ago, court records charge Daniel with walking up to a woman in a parking lot and saying "give me your money or I'll pull out a gun."
He is now charged with a first-degree felony.
An inner-city problem spreading
Jason Mathis, executive director of the Downtown Alliance, said the once inner-city issue of panhandling has drastically spread across the entire Wasatch Front — and many people are giving into these sad stories.
"People get stories, and they find the stories that are going to be the most compelling," Mathis said. "You shouldn't confuse homelessness with panhandling."
Giving to panhandlers creates a false sense of charity, he said.
"I think it kind of lets people off the hook a little bit," Mathis said. "So if somebody's walking by, they give three or four bucks to a panhandler and think, 'OK, I'm a good person, I've done my duty and I don't have to worry about this again.' Well, really what you may have done is enabled somebody with a substance abuse problem."
So this all begs the questions, what will you do? What will you think? What will you say, the next time you stop at the light?
Email: mheadrick@ksl.com
×
Photos
Related stories
Most recent Utah stories