Estimated read time: 4-5 minutes
This archived news story is available only for your personal, non-commercial use. Information in the story may be outdated or superseded by additional information. Reading or replaying the story in its archived form does not constitute a republication of the story.
Estados Unidos conmemoró solemnemente el viernes el 50 aniversario del asesinato del presidente John F. Kennedy con recordaciones en su tumba y el lugar en el centro de Dallas donde el joven presidente fue abatido en su limusina descapotada.
Las banderas flamearon a media asta, y se preveía realizar un minuto de silencio a la hora de los disparos. También hubo actos en su patria ancestral, Irlanda.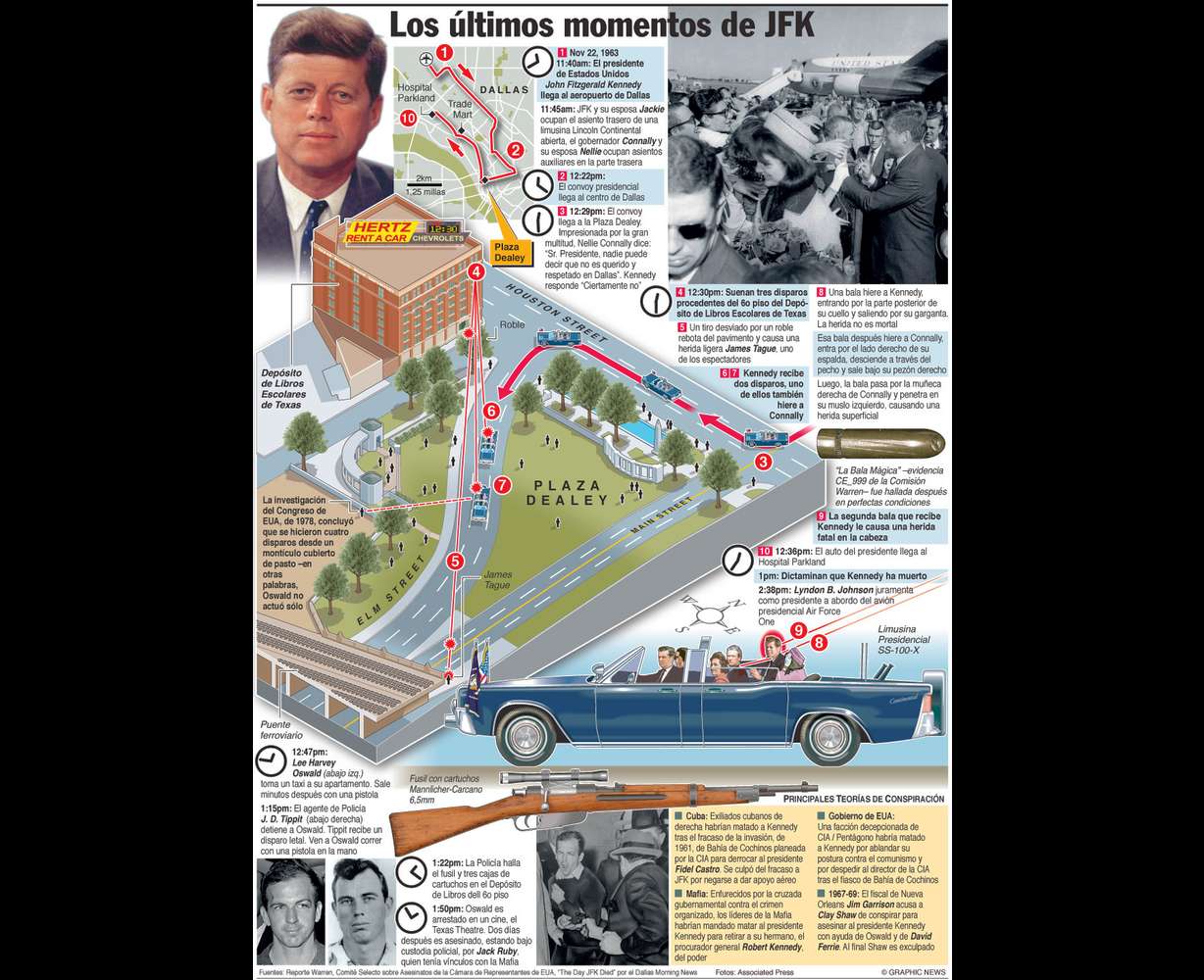 Poco después del amanecer, el secretario de Justicia, Eric Holder, concurrió a la tumba recientemente refaccionada de Kennedy en el Cementerio Nacional de Arlington, donde un oficial de caballería británico montaba guardia y sonaban gaitas junto a la llama eterna.
Una hora después, Jean Kennedy Smith, de 85 años, la última hermana sobreviviente, acompañada por una decena de miembros de la familia, colocó una ofrenda floral. Tomados de las manos, rezaron en silencio contemplados por algunos cientos de turistas.
El viernes era un día frío, húmedo y ventoso en Dallas, muy distinto de la jornada soleada cuando murió Kennedy.
Se emitieron unos 5.000 boletos gratuitos para la ceremonia en la plaza Dealey, flanqueada por el Depósito de Libros Escolares de Texas donde acechaba el francotirador Lee Harvey Oswald.
El escenario de la ceremonia, al sur del edificio, estaba decorado con un gran cartel con el perfil del presidente asesinado. Pantallas de video mostraban imágenes de Kennedy con su familia.
La gente arribó con horas de anticipación.
"El presidente Kennedy siempre ha sido venerado en nuestra familia", dijo Colleen Bonner, de 41 años. "Quiero honrar su memoria y ser parte de la historia".
#3
El coro masculino de la Academia Naval actuaba en honor al servicio militar de Kennedy durante la Segunda Guerra Mundial y se preveía un sobrevuelo de aviones de la Fuerza Aérea.
La actividad del viernes incluirá una breve alocución del alcalde, se harán sonar las campanas de iglesias y el escritor David McCullough leerá fragmentos de los discursos del presidente.
Es un enfoque reverente que se repetirá en Boston, donde la Biblioteca y Museo JFK abrirá una pequeña muestra de objetos nunca antes expuestos del funeral de estado de Kennedy y celebrará un homenaje musical que no estará abierto al público. En Washington, el presidente Barack Obama se reunirá en privado en la Casa Banca con líderes y voluntarios del programa Cuerpos de Paz, creado por Kennedy
El comité convocado por el alcalde de Dallas, Mike Rawlings, para planear el evento en la ciudad quería centrarse "de una forma positiva en el legado del presidente Kennedy", dijo Ron Kirk, ex alcalde y miembro del panel.
Este año se celebraron numerosas actividades alrededor de Dallas para conmemorar el aniversario, como paneles en que participaron algunas personas que estaban presentes ese día, conciertos y exhibiciones en museos.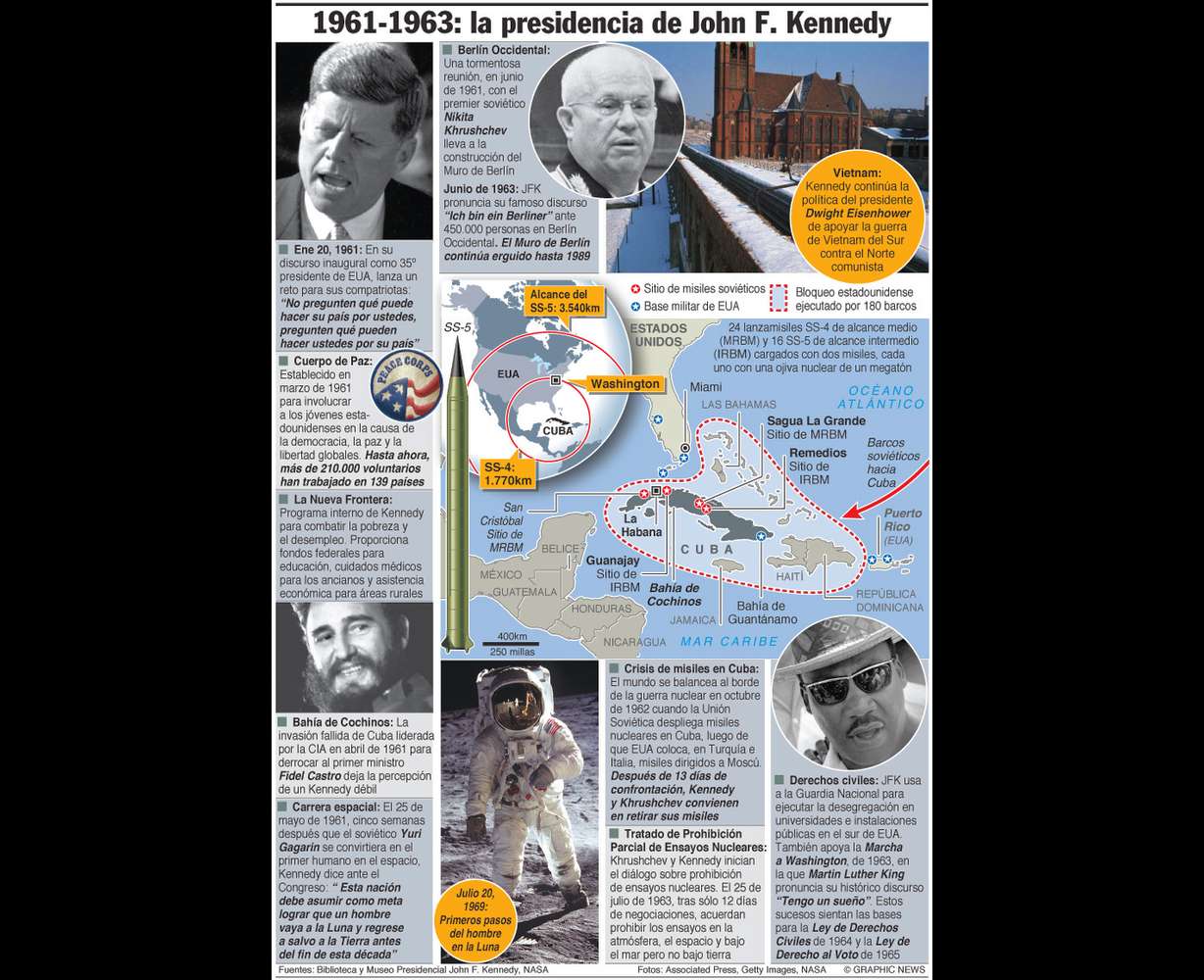 Julian Read, ayudante de prensa del gobernador John Connally, estaba en un autobús con representantes de los medios varios vehículos detrás de la limosina presidencial. Después de los disparos, vio alejarse el descapotable en que iban Kennedy, herido de muerte, y el gobernador, lesionado de gravedad. Read publicó este año un libro en que contó su experiencia y asistió a varios de los eventos, que calificó de catárticos.
"Aunque tenía muchos pensamientos melancólicos, todo va mejorando, me consuela mucho más que en cualquier momento desde 1963", dijo Read, que estará en la ceremonia oficial el viernes.
La Coalición sobre Asesinatos Políticos, un grupo que opina que la muerte de Kennedy fue parte de una confabulación, por lo general se reúne en el lugar para un minuto de silencio cada 22 de novimbre. Pero como el pequeño promontorio donde por lo general se celebra la reunión estará cerrado el público este año, el director ejecutivo John Judge -quien acudió por primera vez a la Plaza Dealey para el quinto aniversario en 1968- dice que ha llegado a una cuerdo aceptable con el gobierno municipal.
El grupo -que planea vestir camisetas con una imagen de la cabeza de Kennedy con un orificio de bala y el lema "50 años de negación son suficientes"- se reunirá a pocas cuadras de distancia y se acercará a la plaza cuando termine la ceremonia oficial.
×
Photos
Most recent News stories