Estimated read time: 4-5 minutes
This archived news story is available only for your personal, non-commercial use. Information in the story may be outdated or superseded by additional information. Reading or replaying the story in its archived form does not constitute a republication of the story.
WASHINGTON, Ill. — As debris started to hit Jon Byler Dann's house on Sunday, he knew the tornado was only minutes away. Dann gathered his four young children and the family dog and hunkered down in the basement as the winds howled past their window.
Dann knew his children were alive when he could hear each one screaming in the aftermath of the devastation. But his joy at their survival was bittersweet — Maggie had bolted from Dann's arms right as the tornado hit the house. When he couldn't find her after being pulled out from the rubble, he feared for the worst for his dog of 11 years, but couldn't shake the feeling that she was still alive somewhere.
"After it happened and my dog was lost, I didn't feel right,'' Dann told Today.com. "I felt extreme guilt, and I felt panic, but I really believe it's because she was still alive and in there just waiting for me to find her."
Dann had sheltered his children and dog in the basement of his house after the tornado warning went off. Maggie was originally in her kennel but Dann decided to move everyone into a safer room before the tornado hit. Maggie could not be coaxed from her kennel because she was too scared to leave. He ran and tried to grab her right as the tornado was about to hit his house.
"She was so scared that she bit my hand and scratched me,'' he said. "I tried to pull her out of her kennel, but she was thrashing and clawing and got out of my arms. Then I saw the debris field was hitting the house and felt a hot wind coming in, so I ran into the bathroom, threw a large amplifier in front of the door, and then (the house) was gone."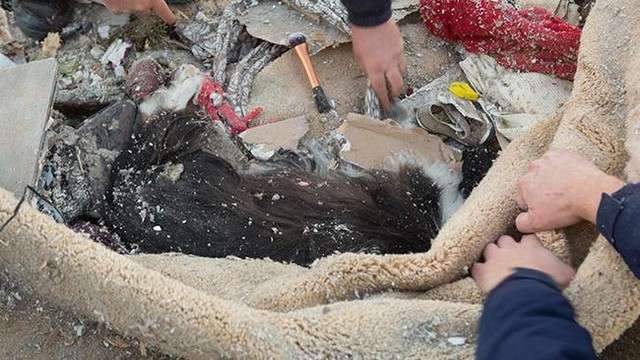 Dann returned to the heap of rubble that used to be his house Monday morning. After starting to walk through the debris with his friends, Dann heard a faint barking. He called for help and his friends rushed over and started moving the wreckage out of the way. It took six men to move a heavy piece of debris, but Dann finally got to Maggie, who was wrapped up in carpet.
"She was wrapped up in there with a whole bunch of insulation,'' Dann told TODAY.com. "We got her out, and she was dehydrated and had a dislocated hip. She was in shock, but her tail was wagging. She was happy to see me, and I was happy to see her. It was unreal."
Photographer Charles Ledford, a visual and multimedia journalism professor at the University of Illinois, happened to be near when Dann was looking for Maggie on Monday morning while he took pictures for The Weather Channel. His stunning and emotional photos have gone viral as people around the world have been moved by the heartwarming reunion.
Following the reunion, Maggie was taken to a nearby veterinary clinic to be checked out. She had a dislocated hip that needed to be fixed.
"So far we're keeping our fingers crossed and (saying) lots of prayers, and (the hip) is staying in place," said Dr. Michael Thomas, a veterinarian from the clinic.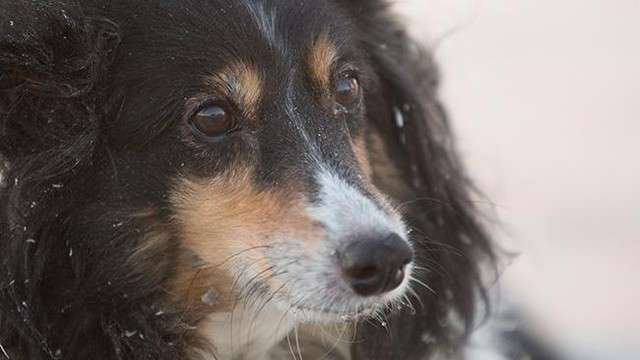 Donations have been pouring in after the photos made their way to Reddit. The cost for Maggie's care has been completely covered by strangers around the world.
"It really says a lot about the generosity of people, and our country," Thomas told the Weather Channel. "We're getting calls thanks to your story from all over the whole country. It's amazing, people from Connecticut, New York, all over really - people who have seen the story and want to donate, and we tell them that we've got enough for Maggie, but they say just put it towards other patients."
Dann's wife was at work at a nearby hospital and was never in the path of the tornado. He is extremely grateful that all of his family survived without any major injuries.
"My children were relatively unscathed other than some scratches, and then finding my dog alive and kicking, it's like everything else is a bonus,'' Dann said.
×
Photos
Related links
Related stories
Most recent Uplifting stories