Estimated read time: 2-3 minutes
This archived news story is available only for your personal, non-commercial use. Information in the story may be outdated or superseded by additional information. Reading or replaying the story in its archived form does not constitute a republication of the story.
magine el perro ideal de diseñador: sería listo, sano e hipoalergénico. No ladraría y sería más longevo. Y lo más importante: nunca perdería su rostro de cachorro.
Conozca al "cava-poo-chon", la raza más nueva y más reciente en décadas de búsqueda por la fuente de la juventud en los rostros caninos y de la perfecta mascota accesorio. Pero el American Kennel Club no reconoce la nueva tendencia como una raza oficial, y una experta dice que algunos perros de raza especialmente pequeños son "artilugios" costosos.
"Siempre ha habido un mercado para estos perros de apariencia juvenil eterna", dijo el entrenador Steve Haynes, de Fidelio Dog Works, y quien está trabajando con la primera generación de 50 Cavapoochons. "Hasta hace poco, los perros especializados como los Yorkis y Malteses miniatura eran los de moda".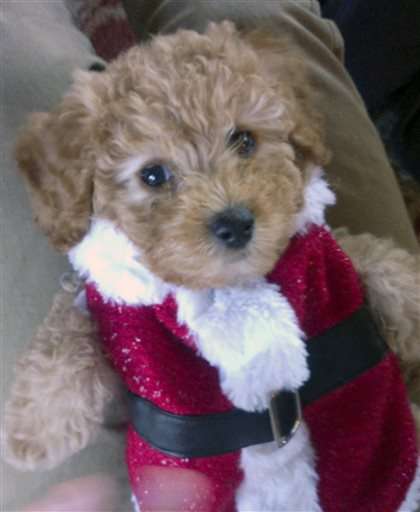 El cava-poo-chon es un mestizo de Cavalier King Charles Spaniel, Poodle miniatura y Bichon Frise. Con la ayuda de un genetista y un veterinario reproductivo, el híbrido de triple cruza fue creado por Linda y Steve Rogers, de Timshell Farm en Pine, Arizona.
Con un precio que va de los 2.000 a los 3.500 dólares, el cavapoochon combina lo mejor de tres razas, explica Linda Rogers. Agregó que pueden llegar a vivir hasta 20 años, hay en varios colores y dos tipos de pelo: rizado o muy rizado.
Hasta ahora, 58 familias han regresado para tener un segundo cavapoochon y 12 de los perros han sido certificados para trabajar en asilos y hospitales como animales de terapia, explicó Rogers.
La popularidad del aspecto de bebé con los canes empezó hace más de medio siglo, con anuncios en revistas que vendían cachorros miniatura y los entregaban por correo. Yorkis, malteses y pomeranos fueron populares un tiempo y hasta hace poco surgieron razas híbridas con nombres adorables que terminan en "oodle" ''uddle" o "poo" que cuestan miles de dólares, dijo la experta en comportamiento animal Darlene Arden.
×
Most recent Latino stories