Estimated read time: 4-5 minutes
This archived news story is available only for your personal, non-commercial use. Information in the story may be outdated or superseded by additional information. Reading or replaying the story in its archived form does not constitute a republication of the story.
SALT LAKE CITY — Just admit it, you love movies. Don't be ashamed, we all love movies. They transport us to other worlds that we've never dreamed of. They give us the ability to travel through time and they give us the opportunity to see cultures and people we'd never be able to in real life.
While we love watching movies there's a lot that we would like to know before going in and also know what's worth watching. Well, there's a one-stop shop for that. OK.com gives you everything you need to know about movies.
Here are five reasons you should be using OK.com.
Easy to use
OK.com has been completely redesigned and it's never been easier to use.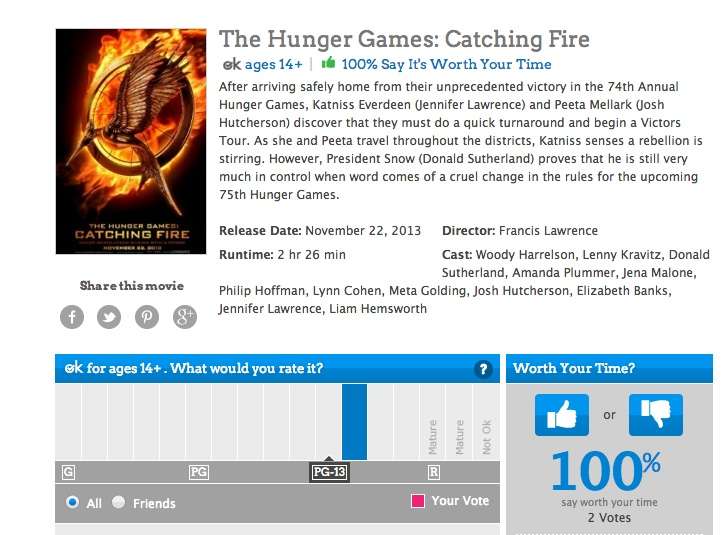 The interface is now user friendly and helps you find everything you are looking for on the site without being side tracked by sidebars or widgets that you don't even know what they do. What's a widget anyway?
On top of all this you get to rate movies by simply giving it a thumbs up or a thumbs down. Then to see if you actually want to watch a movie or not what is easier than looking at a number? 80 percent — good. 30 percent — bad.
Simple, simple, simple.
What to watch
OK.com gives ratings by both critics and regular moviegoers. You can read their reviews and see what people are saying about the film before you ever go out and see it.
These reviews aren't just for what's in theaters, but also what's at Redbox, Netflix and Amazon Prime. I mean, a buck's a buck and you don't want to waste it on some movie that's not worth your time.
OK.com even goes out of the way and shows you the highest rated movies at Redbox, Netflix and Amazon with a single click. Believe me, if you're lazy like me it could not get any easier.
See what you actually want to see
OK.com is customizable and you can set up your feed to just show reviews and ratings from those you trust. You also get a look at the newest trailers and movie news that go right to your feed.
Use it on your phone
Does anything else really need to be said?
Picture this scenario: it's 3 am and you can't sleep because you're so excited to see "The Hunger Games: Catching Fire." All you keep thinking about is, "I can't wait to see Gale. But I'm also excited to see Peeta. How can you choose? Will the movie be as good as the book?"
Well, grab the phone that is obviously at your bedside and open OK.com and see what your trusted friends and critics have to say about the film.
Thanks technology, now I can sleep easy.
Seriously though, OK.com is mobile friendly and accessible from anywhere.
Age appropriateness
While there are a thousand different things that OK.com offers the site's bread and butter is its age appropriateness ratings.
Let's revisit "The Hunger Games: Catching Fire."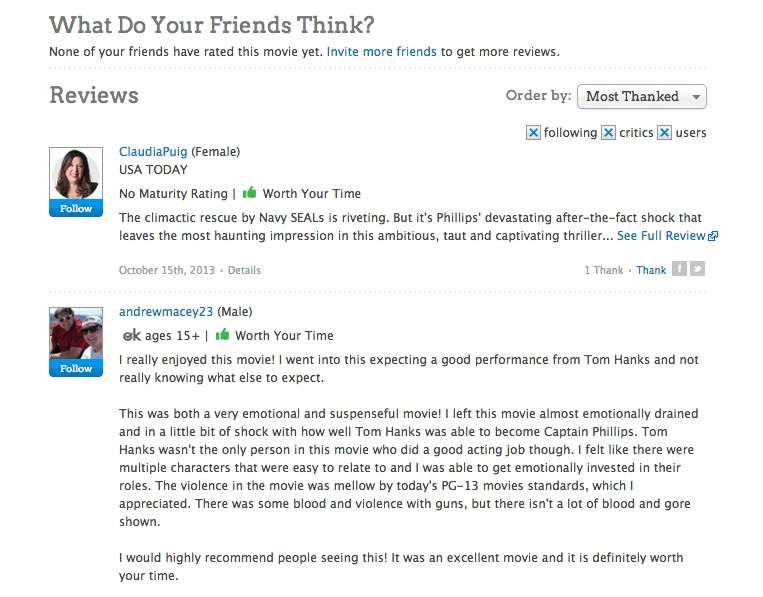 Your 12-year-old daughter read the book series and cannot wait to see the film, but it's a movie about teenagers killing other teenagers. As a parent an obvious question is, "Is this OK for my 12 year old to see?"
That's where OK.com comes in.
Search the film you're interested in and along with a "Worth Your Time" rating OK.com also has age appropriate ratings. This rating gives you an idea of what other people in the OK.com community have rated the film.
A PG-13 label, for example, isn't as informative as you'd like. But an average vote of 15 plus and a review like this one from Andrew Macey on "Captain Phillips, "The violence in the movie was mellow by today's PG-13 movies standards, which I appreciated. There was some blood and violence with guns, but there isn't a lot of blood and gore shown," is helpful.
OK.com is a worthwhile site that is the perfect go-to tool for any movie lover. Head over, sign up and start reviewing films and finding out what you should watch tonight.
×
Related links
Most recent Utah stories