PROVO — The BYU Cougars hosted the Boise State Broncos and did something no Utah school has ever done: they beat the Broncos.
BYU's win Saturday night win in Provo snapped a 21-game winning streak for Boise State against Utah teams. Following a Bronco win in Boise that went down to the last second in 2012 and now with the sound win for BYU in Provo Saturday this new found rivalry is set for some epic battles.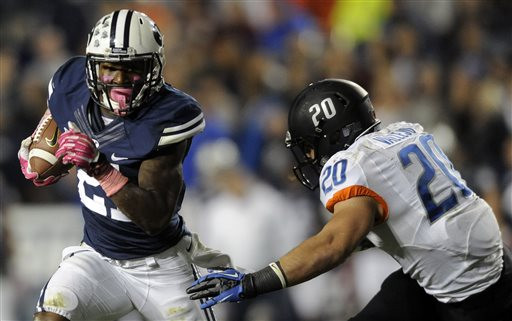 While Cougar Nation is celebrating BYU's first win against Boise, there is an even bigger story coming out of the game. BYU has two sophomores on offense that could become one of the greatest running backs and one of the greatest quarterbacks in Cougar history.
The BYU offense got off to a slow start to begin the season but they have now found their stride and Taysom Hill and Jamaal Williams appear to be unstoppable. Not only are they powerful playmakers, they're also young and will just get better.
Hill and Williams accounted for 553 of BYU's 568 yards. Williams managed 114 yards on the ground and another 24 receiving. Hill contributed 339 yards through the air with three TD's with an additional 76 yards on the ground and a TD.
Williams not only has speed, but his vision is improving week after week and you'd be hard pressed to find a back who runs harder than the 19 year old from California. Williams is just fun to watch and his skills and smarts are still growing.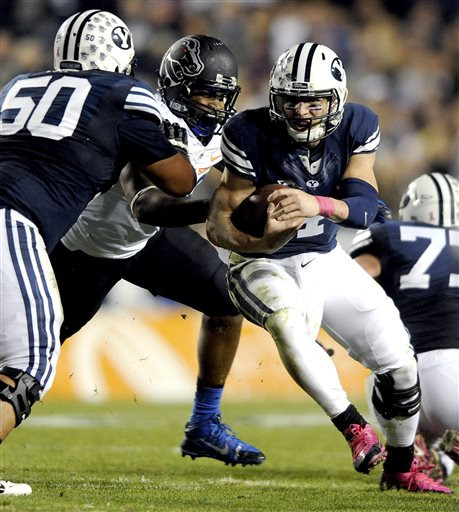 Hill is also a sophomore and this is his first year as a true starter. Over eight games Hill has over 2,000 yards passing and over 1,000 yards rushing. He also has 12 touchdown passes against eight interceptions and has an additional eight touchdowns on the ground. Those are impressive numbers for a first-year starter after a full season, but Hill still has four regular season games and a bowl game before all is said and done.
Hill and Williams are an impressive one-two punch and they have the potential to become the best in BYU history. There is a lot of season left to watch them grow and after that we still get to see these two finally hit their college potential for another two years.
Both Hill and Williams have a ways to go before they are compared to the likes of Steve Young or Luke Staley, but they still have five games in 2013 and another two seasons to make up that ground.
×
Related Stories