Estimated read time: 4-5 minutes
This archived news story is available only for your personal, non-commercial use. Information in the story may be outdated or superseded by additional information. Reading or replaying the story in its archived form does not constitute a republication of the story.
SALT LAKE CITY — You've brought out the jackets, boots and scarves, but don't stop your fall transformation there. It's just as important (and easy, too!) to update your beauty routine to hit on-trend styles seen on the runways in September.
While most people are wary of the extreme looks and hairstyles showcased during Fashion Week, it's often an excellent resource for inspiration as you move from the warm palettes of summer to the cool, muted colors of fall.
But why should you also change your beauty routine with the changing seasons? Morgan Allen, from Utah-based boutique website Jane.com, says it creates a cohesiveness with your outfit that helps you look well-dressed and gives a favorable impression.
"The makeup you choose when putting together a seasonal outift is huge in conveying the look you want to get across," Allen, who is the Jane.com social media marketer, said. "Like a lot of women who change their hair color to match the season, it is important to alter your makeup to the season as well so your overall look is purposeful and on trend."
But most of us are already extremely busy and changing your daily beauty routine can seem like a daunting task. But if you pick out a few key beauty elements, you can easily make the transition.
Trend #1: Burgundy Lips
The ubiquitous 90s makeup look is back — and fortunately for you, this works well with every skin tone.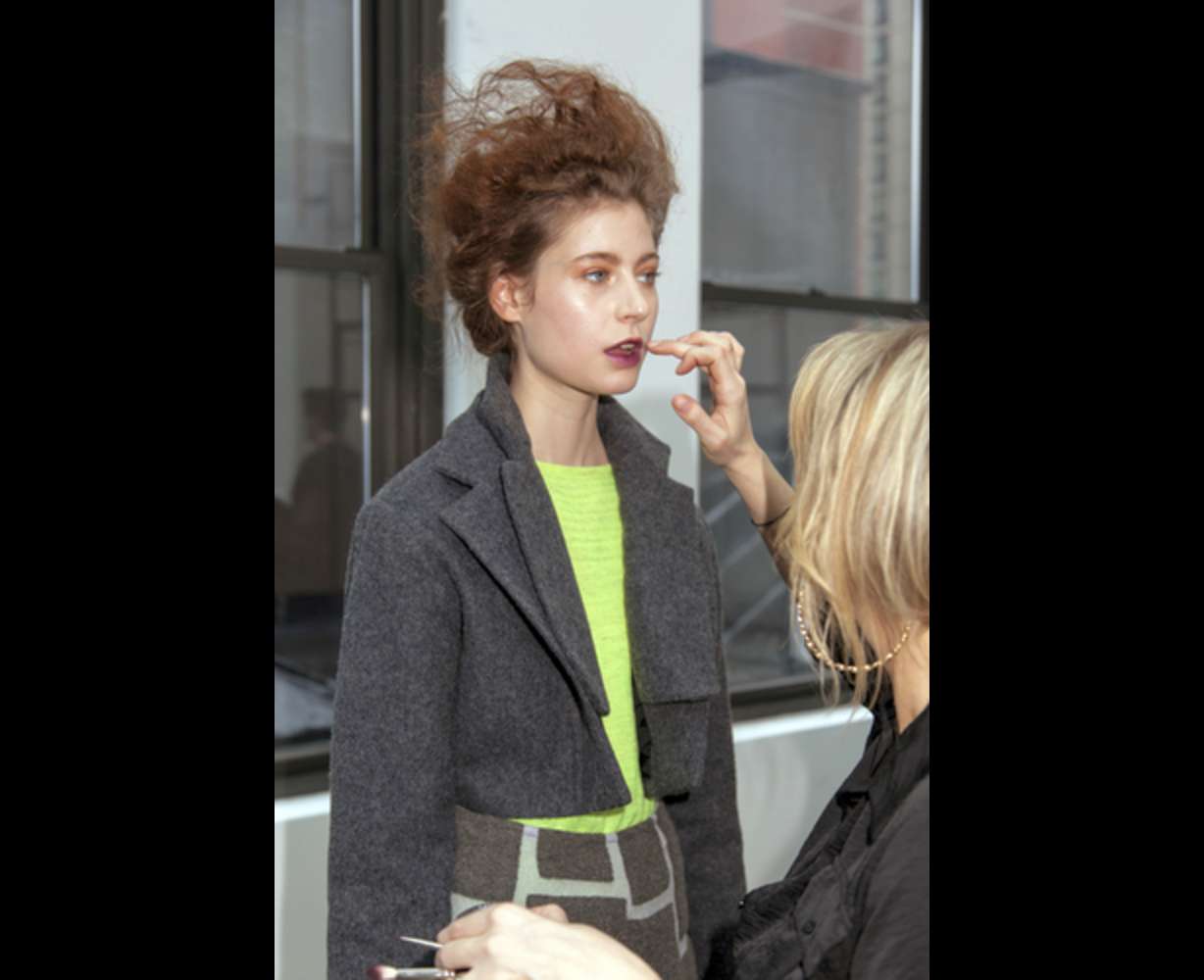 Apply the color directly to your lips and blot. Repeat a few times to get a diffused look. Keep the rest of your makeup minimal so it doesn't overpower this strong color.
Pair it with: Faux leather jacket or a chunky light-colored sweater.
Allen said you can easily mold your wardrobe around this look.
"Faux leather helps add to the dark and mysterious look of burgundy lips without and making it look too over the top," Allen said. "Chunky sweaters in light colors give a contrast to the bold lip and also helps relax an otherwise harsher lip."
Trend #2: Braided Hair
If Pinterest beauty pages are any indication, braids are here to stay for years to come. And thanks to hundreds of online tutorials, it's easy to teach yourself how to plait your hair. Allen said braided hair is the combination of chic and casual.
Pair it with: Flowy top, distressed jeans, ankle boots
Allen says that the bohemian-like top with jeans will give you a casual girl-next-door feel.
Trend #3: Nude-colored or black matte nails
Treat yourself to a manicure that's both sophisticated and edgy. Nude and black matte nails were seen all over the runways at New York Fashion Week in September. Already have these nail polish colors that are glossy? It's an easy fix: paint your nails like normal and then buff them to get rid of the shine.
#poll
Pair it with: Collared shirt, strappy heels, pencil skirt "You can't go wrong with anything you pair with these colors on your nails, but a personal favorite are strappy heels, and a collared shirt tucked into pencil skirt," Allen said. "The nude adds to the professional look, while black provides a wilder, yet still classy, feel."
Trend #4: Low ponytails
It's an updated version of everyone's go-to last minute hairstyle. Sleek ponies tied near the nape of the neck add a sophisticated feel to a sometimes-boring look.
Pair it with: Skinny jeans and leather Moto jacket
"While leather jackets are considered more edgy, a sleek low ponytail makes the look more pulled together and refined," Allen said.
Need another reason to update your look? Studies have shown that people judge you based on how you're dressed. While you might not care about that statement or how you look, your bosses might. Clothing and your overall appearance has the power to make or break you in the corporate world and actually speaks volumes about who you are, regardless if you want it to.
"It is important to choose our dress style carefully because people will make all sorts of assumptions and decisions about us without proper evidence," wrote Dr. Ben C. Fletcher in Psychology Today. "We may think that fashion is just profligate indulgence and our sunny personality will eclipse our dull attire or detract from the soup stains on our anorak. Untrue.
"What we wear speaks volumes in just a few seconds. Dressing to impress really is worthwhile and could even be the key to success."
×
Photos
Related links
Related stories
Most recent Lifestyle stories