PROVO — One month ago, exactly to the day this is being written, the BYU quarterback embarrassed and tainted the program's impressive legacy of great passers.
Sept. 21 is a night that will go down in infamy for Taysom Hill. In BYU's fourth consecutive loss to Utah, Hill tossed 30 incomplete passes, with many of them being far off target. More than likely, as the last four games have shown, the sophomore quarterback will never be as ineffective.
Since that warm evening at LaVell Edwards Stadium, Hill has reinvented himself as a pretty darned good quarterback. In the four games since his horrendous performance, Hill has completed 79 of 121 passes for 1,116 yards and eight touchdowns.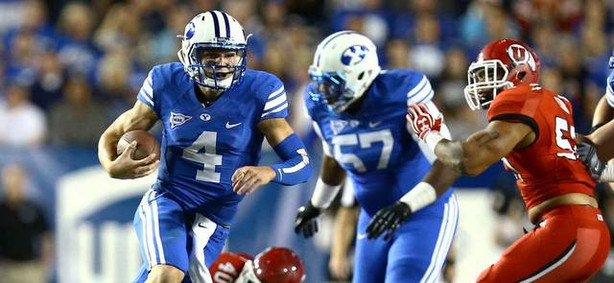 In the first three games, Hill never completed more than 37 percent of his passes. Over the same stretch he connected on a miserable 40 out of 114 passes for only one touchdown.
At that point legions of BYU fans were demanding a change at quarterback. In the interest of full disclosure, considering the coaches said the competition for the starting quarterback was close throughout spring practice and preseason training camp, count me among those thinking the team had nothing to lose by giving Ammon Olsen a shot.
In retrospect, that was stupid.
In the span of one month, Hill's potential has transformed from bust to budding star. That quality was most evident in last week's game against Houston, during which Hill directed a last-minute comeback win and became the first BYU quarterback ever to have at least 400 passing yards and 100 rushing yards in the same game.
"It's a signature moment for BYU (and) for Taysom Hill, and I think we're going to see a lot of great things now in the future," said former BYU quarterback and offensive coordinator Brandon Doman during his weekly appearance on the DJ and PK radio show.
So what's the difference between the first three games and the last four? The possibilities vary, depending on the analysis and loyalty.
During training camp in August, offensive coordinator Robert Anae anticipated a slow start for the offense. Starting his second stint at BYU after two years as Arizona's offensive line coach, Anae was instituting a new scheme with an inexperienced quarterback.
The slow start was inevitable.
Nobody ever doubted Hill's athletic ability, which has to rank at the top of the list for BYU quarterbacks. Few quarterbacks in the country can match his speed and size, which Anae compared to an NFL safety.
But all that athleticism didn't help his throwing accuracy. Somewhere along the line, it all clicked.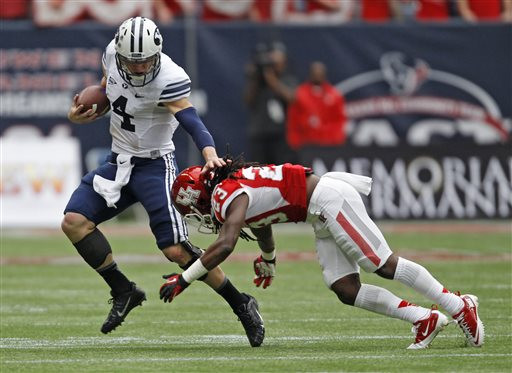 "The game has slowed down a lot for me," Hill said. "It has been a unique transition going into this year with a new offensive staff . . . It's taken a little bit of getting used to, but I've grown and I've matured."
Non-believers aren't buying any of it. They would say Hill has done nothing more than feast on weak competition.
And they have a point.
Hill's best numbers have come against the likes of Middle Tennessee State, Georgia Tech and the aforementioned Houston Cougars. But if Hill's improvement came only at the expense of crummy teams then he wouldn't have been so lousy in the season-opening loss to Virginia, which is 1-5 against Division I teams.
Anae and Hill each were right. The slow start has given way to success, with the quarterback living up to his talent. The lesser competition is a factor, but it's more about Hill than the opposition.
The good thing is all the doubters will get their day in court. If Hill's string of good games is built on a sandy foundation, it will show next month when BYU goes on the road to play Wisconsin and Notre Dame.
"The players and Taysom know what's happening, they're getting better and better," said coach Bronco Mendenhall.
×