This archived news story is available only for your personal, non-commercial use. Information in the story may be outdated or superseded by additional information. Reading or replaying the story in its archived form does not constitute a republication of the story.
OGDEN — Utah families are finding a new place to help kids with disabilities come out of their shells.
It's a program called Children's Adaptive Physical Education Society!, or CAPES!, at Weber State University. By playing games, each participating child develops new skills and turns into their very own superhero.
For 10-year-old Ben Moss, living with Down syndrome has made swimming difficult. But his instructors with CAPES! help make it easy.
His mother, Jill Moss, said, "I have seen him do better on the instruction than the first week; he just wanted to hurry and do it without listening."
Ben and 22 other children with different disabilities are enrolled in the program, which includes children ages 5 to 12. Each child is unique but can relate to others, as can James Zagrodnik, a professor at the university and founder of the program.
"I didn't know how to speak until I was 10 years old," he said.
Zagrodnik has dyslexia and learning disabilities. He started CAPES! this year to teach children they too can become independent.
"If they work on these base skills, they'll be able to develop more complex skills," Zagrodnik said. "By developing more complex skills, they'll become more independent."
Children learn dexterity, fitness, motor skills and socialization over a span of 10 weeks. Twenty-five Weber State students work with them once a week, and say they're also learning.
"I get this feeling that's hard to explain," said Jen Hill, one of the instructors.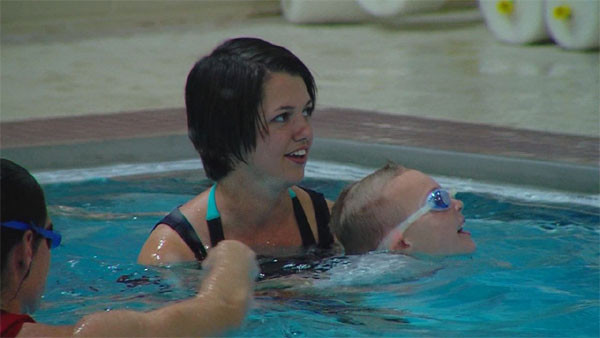 Bryson Vanleeuwen has autism. His mother, Angela Vanleeuwen, said he has never been able to stick with a program until now.
"We tried things like soccer and he just never could grasp it," she said.
But after a mere 10 weeks of training Bryson will have superhero powers, or as his mother always knew he would have, the use of new skills.
At the end of the program each child will graduate with his or her own cape to show they're now superheroes over new skills.
×
Photos
Related Stories