SALT LAKE CITY — We've put together a few of the bigger stories from the weekend that you may have missed. Click the headlines to read the full story.
SLC Comic Con wraps up with over 50K tickets sold
The inaugural installment of the Salt Lake Comic Con set a record. Fire marshals told event organizers 70,000 to 80,000 people attended at the Salt Palace Convention Center Saturday. That number, quoted on the convention's Facebook page, included children, vendors and convention staff.
Saturday's ticket holders were closer to the 50,000 range. Gove. Gary Herbert told convention organizers that Comic Con was the largest convention of any kind in the state.
Flooding drives Utah County evacuations
Residents of an Alpine neighborhood are back home after floodwaters from weekend storms forced them to evacuate.
About 100 people were evacuated for about 30 minutes. Heavy rains also caused mudslides in American Fork Canyon and flooding in other areas, particularly throughout Utah County.
The pounding rain even caused a two-hour delay of Saturday's BYU-Texas football game.
1 juvenile dead, 1 injured in shooting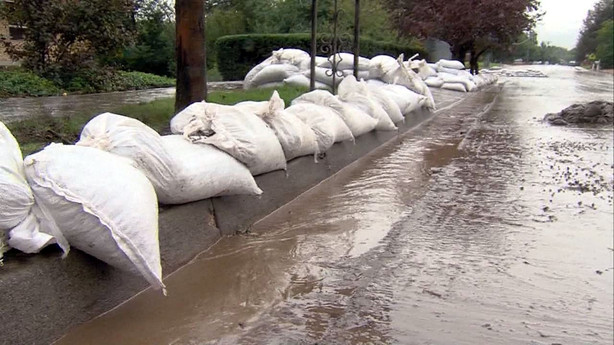 One teenage boy died, another was critically injured in a shooting incident. Murray police said both boys were under the age of 18, possibly as young as 13 and 15.
Police were called to a home Saturday night on reports of shots fired and found the boys shot.
Murray Police Lt. Mike Fernandez said officers were not looking for any outstanding suspects. Investigators do not believe the incident was gang related.
Woman connected to officer's death arrested
A woman connected to the shooting death of a Draper police officer last weekend was arrested late Saturday after she was released from the hospital.
Detectives arrested Traci Vaillancourt, 34, for investigation of obstructing justice in the ongoing investigation into the death of Draper Police Sgt. Derek Johnson. Vaillancourt was booked into the Salt Lake County Jail.
Unified police say Vaillancourt is still considered to be the victim of a shooting. They believe her boyfriend shot her and also shot Johnson before turning the gun on himself.
Tokyo celebrates win to host 2020 Olympics
Cheers echoed across Tokyo Saturday as thousands of people started celebrating the city's successful bid to host the 2020 Olympics. Tokyo beat rivals Istanbul and Madrid despite concerns about a nuclear plant leaking radioactive water.
After the International Olympic Committee's vote in Beunos Aires, Argentina, Japan's capital defeated Istanbul 60-36 in the final round. Madrid was eliminated in the first round.
×
Related Stories