SALT LAKE CITY — Once a year since 1975, the Greek Festival has brought cultures together in celebration of an ancient heritage.
The Salt Lake City Greek Festival, held at the Holy Trinity Cathedral on 300 West and 300 South, gives Utahns an opportunity to learn about Hellenic culture and history and enjoy delicious food. This year, the event will take place Sept. 5 to 8.
If that's not specific enough to pique your interest, here are five reasons to visit the Greek Festival this year.
Watch Them Dance
Traditional dance takes up much of the festival schedule, so find a seat and watch the performance. Thursday, Friday and Saturday night, the dancing goes until about 11 p.m., closing the festival for the day.
The dances performed are a well-preserved part of Hellenic history, and dancers perform in traditional garb.
Visit the Holy Trinity Cathedral
Light filters through the beautiful stained glass in this building, which is filled with religious symbols and relics. Paintings cover the walls and incense wafts through the rooms where parishioners of the Greek Orthodox faith worship.
Greek Festival Information
Holy Trinity Cathedral on 300 West and 300 South $3 admission, children 5 and under are free Thurs: 4 p.m. - 11 p.m. Fri: 11 a.m. - 11 p.m. Sat: 11 a.m. - 11 p.m. Sun: 11 a.m. - 8 p.m.
Learn a little about the building's history and the faith while you take a break from the noise and activity of the festival outside.
Learn About Hellenic Culture
While you're on the grounds of the Holy Trinity Cathedral, step inside to visit the Hellenic Cultural Museum. Learn about the Greeks who immigrated to Utah, along with their culture and history.
Once you've perused the artifacts, step into the gift shop for resources to learn the Greek language, to cook like a Greek, or delve into history a little deeper with their books.
Fill Up on Food
Festival organizers do not take feeding their crowds lightly: Food preparation for the festival started weeks ago.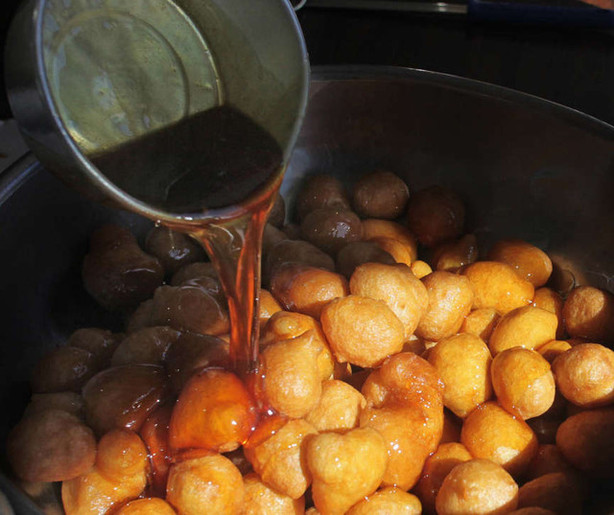 The festival serves up gyros, souvlaki and enough feta cheese to keep you on a cheese high for weeks. Don't stop there with the Greek fare, though. Dolmathes — rice and sausage wrapped in a grape leaf and steamed — dipped in tzatziki sauce are close to heaven. Spanakopita is made with the same flaky fillo dough as baklava, but it's filled with spinach and cheese. Green beans swim in a delicious tomato sauce to make fasolakia. And pastitsio is a pasta casserole dish filled with meat, cream and tomatoes.
The lines for the food can be long, so don't wait until the last minute and you've already thrown yourself into a hangry fit of rage. Get in line a few minutes early.
Treat Yourself
Once you've licked your fingers of the remaining flavors of your lunch or dinner, treat yourself to some Hellenic sweets and coffee.
The honey and walnut pastry baklava is a crowd favorite, but why stop there? Get the Greek's version of the doughnut, loukoumades. Or try a kataifi — shredded phillo dough filled with nuts drenched in sugar. Koulouria is a popular cookie choice to pair with coffee. If cake is your weakness, the poutika's delivers a cinnamon and nutty flavor.
The festival will serve up an iced coffee alongside their traditional coffee, which is sweetened and unfiltered, leaving coffee grounds at the bottom of your cup.
×
Photos
Related Links
Related Stories