This archived news story is available only for your personal, non-commercial use. Information in the story may be outdated or superseded by additional information. Reading or replaying the story in its archived form does not constitute a republication of the story.
Team coverageThe next time you fly out of Salt Lake International, you'll be going through a different kind of security screening process, and it should speed things up.
First of all, we should point out that Salt Lake International is the first airport in the nation to try this new method, which just started yesterday.
The Transportation Security Administration (TSA) says it's an experiment, and changes may occur from time to time.
Basically, the new screening process separates less experienced travelers from those who are on planes all the time. "What you're seeing today is one of several efforts that we have underway to try to connect better with the passengers," says Kip Hawley, an administrator with the TSA.
The TSA surveyed passengers to learn of their concerns and frustrations, and some patterns emerged. Passengers with kids, for example, who need extra time, didn't want to be in the same line as frequent travelers. "And we heard the same thing from a number of business travelers who said 'We know the rules, we don't need to be told to take our shoes off. We take our laptop out. We know it. We can go through really fast.' So this is a chance to try that out," Hawley says.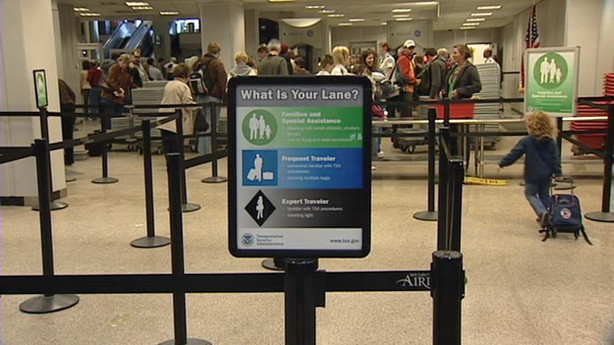 It's a three-pronged approach, where passengers can select which screening line to get into. Green is for families, blue for more frequent travelers and black for experts who are traveling light.
Tom and Jennifer Ryan chose green today, but also travel on business. They think the new program will help. Jennifer said, "One of the benefits is that we don't feel so much pressure to get everybody out because we don't feel like we're holding everybody up; so that's a benefit."
"So as long as you can streamline things and make it go faster, it's always better for everybody," Tom says.
"I think it really helps. I mean, I didn't realize the line is so much shorter," another woman said.
In terms of the screening process, nothing else changes: your carry-on bags will still get X-rayed, you'll have to walk through the metal detectors, and gels and liquids only allowed in certain sizes.
Earl Morris, Utah federal security director for the TSA, says, "We plan on having it here indefinitely, no immediate plans for stopping it. We'll be evaluating it to see how we can tweak it and make it better, but we think it's here for a while."
The system doesn't really have anyone enforcing it, so on busy days people can just walk into the shortest line, regardless of their traveling experience.
Denver International will implement the same system next week, and other airports may follow.
By the way, airport officials here are calling the system, the "Black Diamond Project." They are using the ski analogy, expert and fast skiers go on the black diamond runs, and fast passengers can do the same.
×