This archived news story is available only for your personal, non-commercial use. Information in the story may be outdated or superseded by additional information. Reading or replaying the story in its archived form does not constitute a republication of the story.
(KSL News) Kids from Eagle Bay Elementary met up with Governor Jon Huntsman this morning for Bald Eagle Day.
Governor Huntsman gave the students awards for their drawings of eagles and gave the school a $1,000 prize. He also shared his hopes for the future of Utah's children and the birds.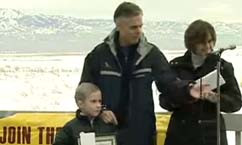 "That we can all return to a place like this and find that still, amidst a state that is growing so very quickly, economically and demographically, that we have a balance that allows us to enjoy nature," Governor Huntsman said.
About 300 bald eagles fly into the Farmington Bay area each February, making Bald Eagle Day one of the more popular wildlife-viewing events.
×