SALT LAKE CITY — Hundreds of hungry people received a full meal Wednesday, thanks to some volunteers who swung into action for the 3rd Annual Barbecue for the Homeless.
The tradition was started by a woman who noticed homeless people going hungry every Pioneer Day. This year, volunteers hadn't even set up their grills before homeless people started lining up for food.
"I would be going hungry if this was not happening," said David O'Reilly, who attended the barbecue.
By the time the hot dogs were hot and coming off the grill, the line of hungry was nearly a block long.
"It's a holiday, so the (Rescue Mission) isn't serving," said Larry Gray. "So this is great, the only way people are going to eat tonight."
It started three years ago, when Tracy Barnes saw a need. When she noticed shelters closing down for July 24, she decided to organize her own event for the homeless
"Things locally are closed down on the holiday, so they don't really have anywhere to go," Barnes said. "The first year it was just like me and a friend (saying) 'Let's get some stuff together. Let's go down there and see what we can do.' "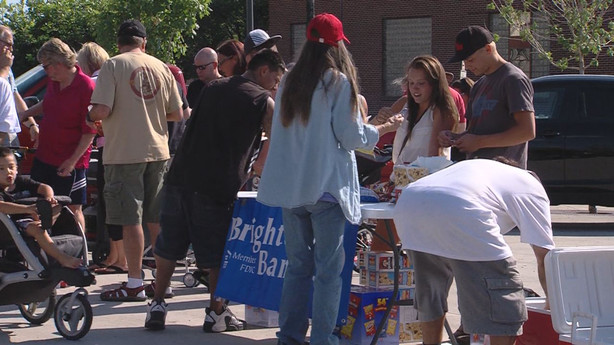 Over the years it has grown drastically. This year they planned to feed 700 people.
"I think it's good for the community because a lot of people aren't as fortunate as others," said John Mayo, another barbecue attendee.
When she saw how big of a response the program received, Barnes recruited her fiance and together they went to their employers to ask for assistance. Brighton Bank and Control 4 pitched in and contributed food. Coworkers, family and friends filled out the volunteer ranks.
"To me it's a small-scale thing, but I think it shows them that there's people that care and want to help them out," Barnes said. "You never know if you're ever going to be in their shoes, and you'd want somebody to do the same thing."
×
Photos
Related Stories