SALT LAKE CITY — Rodeo season is still going strong, and while Utah has seen a wide variety of rodeo events across the state, arenas and rodeo grounds are still gearing up for a summer filled with bull riders and steer wrestlers.
Here is a list of hoof-stomping rodeos still going on in Utah throughout this summer:
Days of '47
While Days of '47 has been hosting events and rodeos throughout the week, two more rodeos are still slated to take place on Tuesday and Wednesday. The rodeo stems from a long tradition in Utah, drawing on pioneers arriving in the valley in 1847.
They've brought in new acts to the 2013 lineup and have upped their prize money for competing cowboys and cowgirls. Their lineup includes bareback and saddle bronc riding, bull riding, barrel racing, steer wrestling and more, along with rodeo clown Keith Isley.
All performances begin at 6:30 p.m. at the EnergySolutions Arena and each night features a highlight. Tuesday will be military night and Wednesday, Utah's Pioneer Day holiday, will be pioneer night. Tickets range from $12.50 to $39.50
Fiesta Days Rodeo
With two more rodeos on its lineup for Tuesday and Wednesday, the Fiesta Days Rodeo has made a name for itself as one of the premier Utah rodeos 26 consistent sellouts. The rodeo has become a Spanish Fork tradition and has been part of the Fiesta Days lineup for 70 years.
Their long list of events have become crowd favorites, including bull riding, tie down roping, steer wrestling, bareback bronc riding, mutton bustin, appearances by bullfighters and more. They also tout one-ton bulls and world champions performing in the classic rodeo events.
With few tickets still available, families can enjoy the July 24 rodeo followed by "Fireworks Spectacular." The rodeos start at 8 p.m. at the Spanish Fork fairgrounds. Tickets are $13.50.
Related:
Deseret Peak Stampede Days
The rodeo, part of the 13th Annual Deseret Park Stampeded Days, has lineup is chalk-full of fun events for families. The two-night rodeo will feature pony rides, muttin bustin, skydivers and fireworks on top of the professional rodeo lineup.
The skydivers will will begin descending at 8 p.m. Aug. 2-3 and will bring the American Flag down with them to kick off each rodeo. There will also be a horseshoe toss competition where spectators can win a $30,000 cash prize.
Tickets for the rodeo are $5 for adults and children for the Aug. 2 show and $10 per adult, $5 for children 12 and under for the Aug. 3 show.
Circle J Rodeo
The Circle J Rodeo, a "bulls, wool and barrel rodeo event," will be held Aug. 8 during the Salt Lake County Fair. The event will offer mutton bustin on a first come, first serve basis for two age groups: ages 4-5 and ages 6-7.
For those interested in registering for mutton bustin, registration will take place between 6 p.m. and 7 p.m. at the Grandstand Arena, where the rodeo will take place . All riders must be under 50 pounds.
Tickets are $10 for an adult and $6 for kids $12 and under, or available in bundles on KSL Deals.
Lions Dixie Round-up Rodeo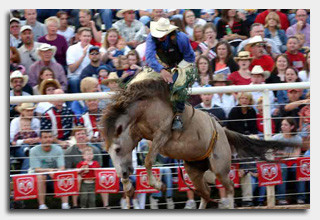 St. George's Sunbowl will host the 79th Annual Lions Dixie Round-up Rodeo, an event that has drawn huge crowds year after year in southern Utah. Jointly held by the St. George Lions Club and the Professional Rodeo Cowboy's Association, the event will bring in champion cowboys and stock, as well as "fearless bull riders," according to their website.
Each night the rodeo will pay tribute to Utah's 222nd Field artillery Regiment 2nd Battalion, as well as the "the fallen cowboy." There will also be mutton bustin for kids, a junior roping event, a rodeo parade and a rodeo queen contest. One night will be dedicated to supporting breast cancer and spectators are encouraged to wear pink
The rodeos begin at 7:30 p.m. Sept. 12-14 and are preceded by nightly entertainment beginning at 6 p.m. Tickets go on sale Sept. and range from $10-$15 for adults, $5 for children 11 years old and younger.
×
Related Stories