OREM — Pinterest isn't just for recipes, fashion and DIY projects; police across the country are using it to catch criminals, including Utah's own Orem Police Department.
Lt. Craig Martinez single handedly runs the department's social media accounts. He decided to start using Pinterest after he saw it being used successfully by a police department on the east coast.
"I spoke with them and talked to them about their success," he said. "It seemed like a good idea."
Before then, Martinez's exposure to Pinterest was limited to the recipes and cleaning tips his wife found. Now, with two pins on the police department's profile, Martinez hopes to utilize it for identifying and catching wanted people.
"I wanted to post warrants, but the list changes so quickly it's hard to keep up on those," he said. "Now we're going to post wanted persons we are looking for and people we need to identify."
Pinterest is one of many social media sites the department is using. The police department is underneath the Orem Department of Public Safety and have profiles on Facebook, Twitter, YouTube, Pinterest, Vine and a blog.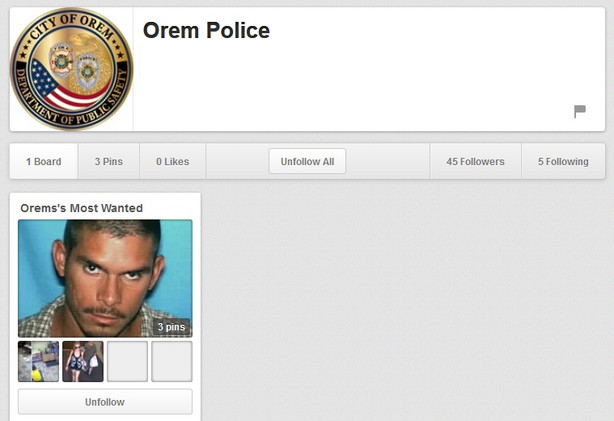 Martinez said what he posts varies depending on the site, usually starting with Facebook and their blog. The ultimate goal is to keep the citizen's informed and as an educational tool to keep residents from becoming victims.
"They don't get to be in our briefings every morning and they don't necessarily get to see everything that goes on," he said. "But it's important for them to know when a home in their neighborhood has been burglarized."
Martinez said social media efforts have been successful so far. Two arrests were made after posting stolen vehicles on Twitter and he interacts with residents on a daily basis using Facebook.
He plans to start posting regularly to Pinterest and using social media to keep Orem residents informed. By using a variety of sites, he said he hopes to reach every type of resident in the area.
"We want to reach everyone. Some people who use Twitter don't use Facebook, and some people who use Facebook don't use Twitter," he said. "If a new social media platform comes up tomorrow, we'll look at it and see if we want to use it."
×
Related Links
Related Stories