SALT LAKE CITY — We've put together a few of the bigger stories from the weekend that you may have missed. Click the headlines to read the full story.
Layton man dead after being ejected from vehicle on U.S. 89
A Layton man was killed Saturday after being ejected from his car on U.S. 89.
The 75-year-old man, whose name was not released Saturday, was traveling north on U.S. 89 when witnesses say he veered off the right side of the road and struck a pole near 750 North, according to Layton Police Lt. Jeff Roderick. The accident occurred just before 9 a.m.
The man was pronounced dead at the scene. After colliding with the pole, the man's vehicle, a Buick sedan, caught on fire, which police said makes it difficult to determine whether the man was wearing a seat belt.
Jazz sign both first-round draft picks
The Jazz have signed Trey Burke and Rudy Gobert, locking up their two top draft picks from this year's draft.
Burke was the ninth pick and acquired by the Jazz from Minnesota on draft night using the 14th and 21st picks. Burke is a 20-year-old from Michigan.
The Gobert signing has cleared the way to allow him to participate in the 2013 Orlando Pro Summer League.
Flooding, hail results of Saturday's storm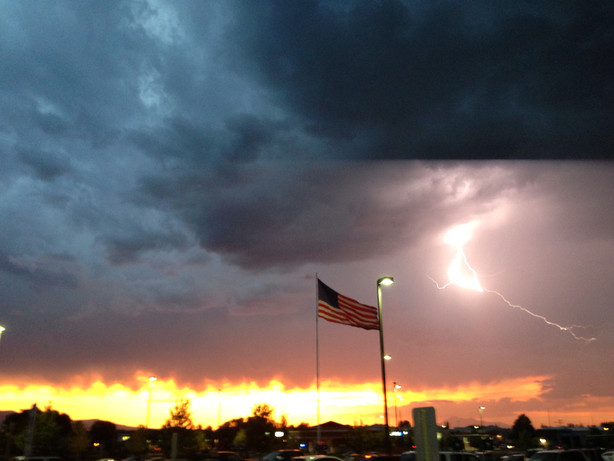 Heavy rain in Midvale flooded several homes near the freeway on Saturday, and South Jordan reported hail 1/4 an inch in diameter.
iWitness pictures sent from South Jordan showed hailstones about 1/4 inch in diameter, and other photos submitted showed crazy weather hitting up and down the Wasatch Front.
Black Mountain Fire contained, officials say
Fire crews reported 100-percent containment of the Black Mountain Fire on Saturday evening.
Lightning sparked the fire Tuesday about 3 miles southeast of Minersville. As of Saturday, 4,566 acres had been burned.
No structures were threatened Saturday evening, Bureau of Land Management officials said. Crews were positioned to remain on scene suppressing hot spots.
Brigham City woman dead in I-15 crash
A 57-year-old woman is dead following a crash on Interstate 15 near the border of Tremonton and Elwood.
Faymarie Eames, of Brigham City, entered northbound I-15 from ElwoodSaturday at about 8:47 p.m. About a mile from the freeway entrance, she crossed her Buick Park Avenue sedan from the right lane into the left lanes of northbound traffic. As she crossed the outside lanes of traffic, she was broadsided by a Ford F-150 pickup truck.
The Utah Highway Patrol said it appeared she was attempting to turn left toward the median turn-thru.
Man involved in '88 compound standoff set to be released
After 25 years, the man who triggered a 13-day standoff at a Utah polygamous compound that ended with the death of a corrections officer will be released from prison Tuesday.
Addam Swapp, 52, has been granted parole after serving time in state and federal prison for his role as the leader of 1988 standoff at the Singer-Swapp compound in Marion.
The showdown, which took place about 35 miles east of Salt Lake City, was sparked after Swapp bombed a Mormon church building in nearby Kamas, claiming it would lead to the overthrow of The Church of Jesus Christ of Latter-day Saints and resurrect his father-in-law, who was killed by police almost 10 years earlier.
×
Related Stories