Estimated read time: 2-3 minutes
This archived news story is available only for your personal, non-commercial use. Information in the story may be outdated or superseded by additional information. Reading or replaying the story in its archived form does not constitute a republication of the story.
OGDEN — A man was shot in the back of the head at St. James Catholic Church Sunday. Police arrested a suspect following a frantic manhunt.
The church is located at 495 North Harrison Blvd. Police have named Charles Richard Jennings as a suspect. Jennings escaped the scene in a stolen white 1996 GMC truck, according to police.
The suspect was at large earlier Sunday. Countywide and statewide searches across several agencies were initiated, but came to an end when the man was apprehended on I-84 near mile post 32 where he apparently abandoned the truck.
A parishioner said she heard one gunshot during the 11:30 a.m. mass. She said people inside the church hit the floor as they heard the shot echo.
One witness said the shooting happened as parishioners were lining up to take Communion. The witness said people were diving under pews, while several men in the congregation chased after the shooter. Police have not confirmed those details, however.
The male victim was transported to McKay Dee Hospital and is in critical but stable condition. Ogden police said the shooting was not a random act of violence.
"The suspect was specific in the desired target and action," the department said in a news release. "No other patrons were injured during the altercation."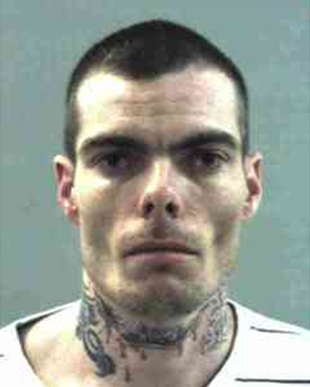 Police said the victim was Jenning's father-in-law.
Parishioners said they know the victim well. They said he attends mass there often and is related to the suspect.
At least one of Jenning's neighbors was shocked by the allegations that he shot someone.
"I can't picture him every doing it," said Tammi Roe. "He was always happy go lucky. I've never seen him angry or mad or anything."
She said she sometimes saw Jennings as he came to visit his mother in her Ogden neighborhood.
"Maybe a day or two and then he'll be gone," Roe said. "He seems friendly and all that. I've talked to him. We've joked around and all that."
Jennings does have some criminal convictions in his background. In 2002, he pleaded no contest to misdemeanor theft and served 30 days in jail. He pleaded no contest to misdemeanor criminal trespassing that same year.
Jennings pleaded guilty to theft and attempted tampering with a witness or juror in 2003. The tampering charge was amended to a misdemeanor. He served 90 days in prison for criminal mischief in 2004.
In 2010, charges of burglary, domestic violence in presence of a child and assault were dismissed.
The church's priest called for people to pray for the victim, as well as Jennings.
"Nowhere is immune from evil and it's what people do when they're confronted with it that really shows their character and I'm really proud of my people here at the church," said the Rev. Erik Richtsteig.
---
×
Photos
Most recent Utah stories