This archived news story is available only for your personal, non-commercial use. Information in the story may be outdated or superseded by additional information. Reading or replaying the story in its archived form does not constitute a republication of the story.
HERRIMAN — More than 1,500 women who were ready to ride in the Goldilocks all-women's bike event in Herriman Saturday morning were faced with a decision because of rainy, cold weather.
To ride or not to ride, that was the question. "Sometimes it just has to rain," Goldilocks event organizer Dani Lassiter said.
"I've been watching the forecast all week, but felt like it was all going to be okay. We have more volunteers than ever before, so I count that as a huge blessing today," Lassiter said. "I told our staff that it didn't matter if it rained on us because we're happy about this ride either way."
This is the fourth year the Goldilocks event has been held, and ride officials estimated more than half of the 1,500 registrants began the race.
Riders, despite the chilly, wet conditions, said the volunteers made continuing on possible. "The course is well marked and the support has been fantastic," said 70-year-old Sharon Swallow of American Fork who was riding with her daughter-in-law, Cyrene Swallow. This is the third year the pair has ridden in the Goldilocks ride.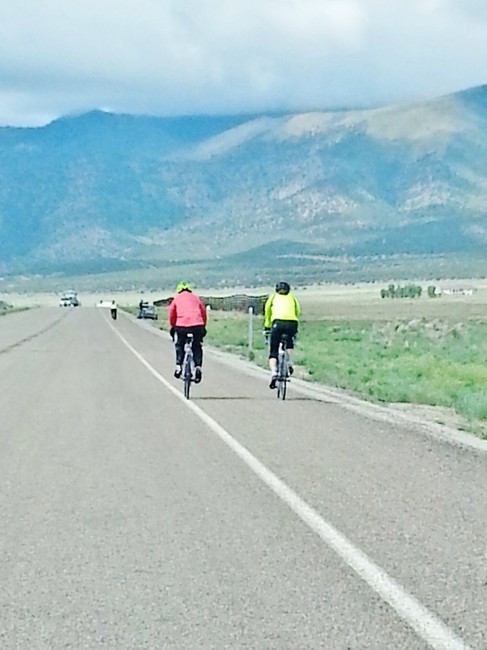 Rest-stop volunteers made some quick game-time decisions, dumping coolers of Gatorade and replacing them with hot chocolate. They also made a quick run to the local Walmart, clearing the shelves of plastic bags and duct tape to provide riders with some rain-proofing.
"We had an exciting morning with a lot of really cold riders. We put the ones who were shivering inside our heated cars and let them warm up. The gals that wanted to continue we helped bag their feet and hands so they could go on," said volunteer Bryan Call, who was on-site as a ham radio operator. "We arranged a lot of rides back to the start line, too, for the ones that didn't want to finish. It was a tough day for riding."
Aprel Mendenhall of Spanish Fork was determined to ride the 60 miles she signed up for. "The first 10 miles were terrible, but after I was totally soaked, it didn't seem as bad and I didn't mind getting more wet," she said as she taped bags over her waterlogged socks. "This actually helps a lot!"
The Goldilocks ride is an event designed to attract first-time riders, taking all the intimidation factors out, except of course, weather. Despite the sometimes pounding rain, hundreds of women braved the elements, riding lengths ranging from 20 to 100 miles all over the southwestern part of Salt Lake County and into northern Utah County.
The rain put a damper on, but did not drown the extravagant event Goldilocks is known for. According to Lassiter, the catering bill alone is more than $30,000. "We don't just throw bananas on the table, this thing is catered like a wedding." Organizers did their best to run the event as planned to give riders the experience they expected despite the inclement weather.
Kristin Sokol authors TheVocalSokol.com, a blog dedicated to helping women stay happy mostly by doing fun things.
×
Photos
Related Links
Related Stories