Estimated read time: 3-4 minutes
This archived news story is available only for your personal, non-commercial use. Information in the story may be outdated or superseded by additional information. Reading or replaying the story in its archived form does not constitute a republication of the story.
SALT LAKE CITY — Imagine owning a loveable, friendly dog, only to have your insurance company raise your home insurance rates or refuse coverage because of your pet.
It's a reality in many states, including Utah. Some insurance companies say certain breeds pose too high a risk to be included in homeowners insurance, while dog owners say that's not fair.
An insurance company's TV ad says dog bites account for one third of all liability claims. According to the Insurance Information Institute, the insurance industry saw more than $478 million in liability claims associated with dog bites in 2011. The average cost for a dog bite claim is $30,000. That's more than a 50-percent increase in the past 10 years.
Craig Densley is in charge of underwriting at Bear River Mutual Insurance. He said his company will not cover certain dogs in a homeowners insurance policy.
"Namely pit bulls, preso canarios, mastiff breeds, rottweilers, dobermans. There's a history of those dogs on that list being more aggressive," he explained.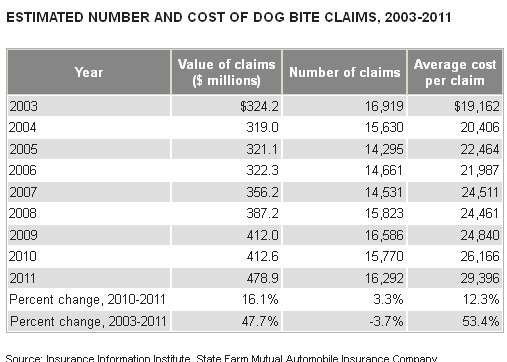 Additionally, American Family, Nationwide and Farm Bureau Insurance, to name a few, all have similar lists that can include breeds like German shepherds and Alaskan malamutes, too.
Densley said his group prefers not to cancel anybody's insurance, but the risk of insuring what's considered a "vicious" dog is too great, even if an individual dog has no history of biting people.
"Those are the breeds that are more aggressive. They tend to be more protective of the property. When you step onto that property, you run the risk of being attacked by an animal that thinks you're a stranger (who's) going to harm someone on their property," Densley said.
Temma Martin, spokeswoman for the Best Friends Animal Society, said, "Companies that do discriminate against dog breeds are literally tearing families apart."
Martin owns two pit bulls, Pansy and Petunia. "And I have a 3-year-old child," she said. "They are all best buddies. They sleep together, they cuddle. Those dogs absolutely love him."
Martin said many pit bulls, dobermans and rottweilers end up in animal shelters because their owners fear they're going to lose their liability coverage.
"They're difficult to adopt out for the reason that people feel like they're going to have a hard time in getting homeowners insurance," Martin said.
There are options, however. Bonita Vanderkooi with State Farm Insurance said, "Every single policy we write is judged on its own merits."
Vanderkooi said her agency will gladly cover dogs the industry deems risky, but they'll ask two questions first.
"Have they bitten anyone is question number one," she said. "If so, provide details. We also ask them, have any one of these dogs been trained for guard or attack purposes?"
Vanderkooi said her agency firmly believes it's not the breed, but the training and temperament that matter.
"It's not a specific dog we're concerned with. We're concerned with the owner, absolutely," she said.
---
It's not a specific dog we're concerned with. We're concerned with the owner.
–Bonita Vanderkooi, State Farm Insurance
---
People on all sides of the issue agree that any dog has the potential to bite.
"We have documented cases where one of our field adjusters was attacked by a chihuahua when he opened the door to visit one of our insureds," Densley said. "Even chihuahuas can become aggressive."
Farmers Insurance also currently underwrites homeowners insurance for Utahns who own a so-called aggressive breed of dog, but that could be changing.
In February, the agency told California policy holders that it will no longer cover bites by pit bulls, rottweilers and wolf hybrids. A spokeswoman for Farmers said those breeds account for more than a quarter of the agency's dog bite claims.
Dog advocates, rescue groups and trainers argue the policy only condemns those breeds, without going after irresponsible owners. That policy has not come to Utah yet.
×
Photos
Related Stories