PROVO — The 2013 NFL draft, and two players from Utah have the opportunity to walk across the stage at Radio City Music Hall and shake hands with NFL commissioner Roger Goodell.
All the buildup and hype preceding the draft comes down to that Thursday evening, where the prospects gather with their friends and family and await the announcement of which team will make an investment in their talent.
Much has been said about Star Lotulelei and Ezekiel "Ziggy" Ansah, two defensive lineman from the University of Utah and Brigham Young University. Here is a sample of what scouts and draft experts across the nation have said about the two players.
Ezekiel "Ziggy" Ansah
ESPN the Magazine
"He's raw from the point of view of understanding football. He didn't grow up around the game, didn't even watch it on TV, didn't know any schemes or nuances. But he's a gifted athlete, with crazy power in his legs and upper body. Does he have the instinct, or is he just an athlete playing football? He understands his assignment on a certain play, but we don't know if he understands the game, the difference between how you rush on third-and-long and third-and-short. If you give him time, he'll get it. That's why, overall, I love Ansah."
Todd McShay, ESPN draft analyst
Within a couple of years, he can become a Jason Pierre-Paul. I don't know if he will or not, but he has that kind of talent.
Sam Monson, Pro Football Focus
He's fast in a straight line, for sure. But he's routinely dominated at the point of attack and struggles when the block doesn't come from directly in front of him. He's a major project and not worth a high pick.
Mel Kiper Jr, ESPN
Scouts have fallen for his athleticism, which he showcased at the Senior Bowl. That physical prowess is why he'll go in the top five.
NFL.com
Ziggy Ansah
| | |
| --- | --- |
| Height | 6'5" |
| Weight | 271 lbs. |
| 40-yard | 4.63 sec. |
| Bench press | 21 reps |
| Vert. jump | 34.5 inch |
It is amazing how far Ansah's technique has come in such a short amount of time, not to mention how much he has transformed his body to fit the role coaches want him to play. That sizable frame coupled with outstanding closing speed and natural power will captivate many, making a top-20 selection possible. Ansah is rough around the edges, but the number of height/weight/speed athletes with positional versatility selected in that area in recent years point to a rise up draft boards.
Rob Rang, CBSsports.com
With just nine starts on his resume', Ansah is undeniably raw but he possesses the most intriguing combination of size, athleticism and power of this year's pass rushers
Bill Polian, former NFL general manager
"He's going to succeed, and the likelihood of his success is pretty darn good."
"He just finds a way to get off a block, and escapes from it naturally. In the space of about six weeks (in the 2012 season), without ever having played the game before at the highest level, he learned how to defeat a double-team. It takes people years to do that. He's a natural athlete. It would take a lot of courage to make this pick, you're going to be criticized, but to me, this is a guy that has it all. 'Cinderella' is going to break the glass slipper into smithereens. This is a tough, physical, ferocious guy."
"He's more physical than Jason Pierre-Paul; this is a little bit of a Bruce Smith comparison, physically. He has the ability to transfer speed into power--(snaps fingers)--like that. That's the rarest commodity to find."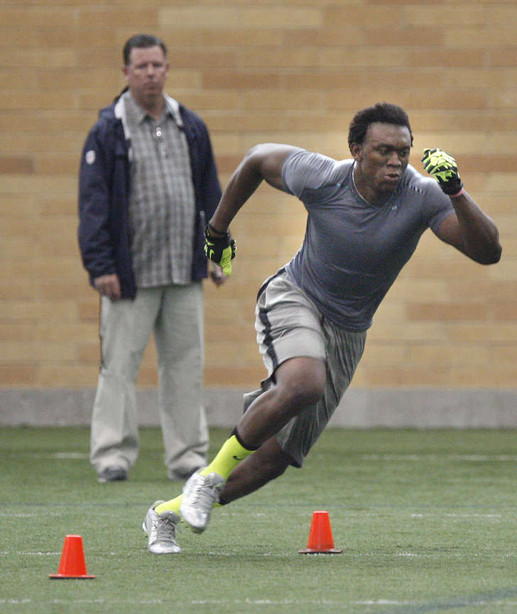 Peter Schrager, FOXsports.com
A freakishly athletic defensive end, more than one NFL player personnel man has told me they see some Jason Pierre-Paul in Ansah. He's raw, he's young, and he's a naturally gifted athlete. I love Ansah's story. As a freshman at BYU in 2009, he tried out for the basketball team. He didn't make it. Then he gave track and field a shot. After seeing football being played, he figured he'd give it a go. Two years after the first sight of American football in his life, Ansah's a top-10 prospect. He assured the media he "loves" football at the Combine, and though he's incredibly raw, there may be no player in this draft with more potential for stardom.
Kevin Graham, KSL.com
Upside and potential. Ansah is the equivalent of investing in those high-risk stocks for your 401K portfolio. It could pay off and set you up for a long and prosperous retirement, or keep you working several extra years before you can sit back and enjoy playing golf every day. A 6-foot-5, 271 pound man who possesses the speed, power and athleticism he displays has NFL types drooling. They look at the fact he has only played football for two years but in that short time showed he can be a disruptive force. They see a player they can coach up and mold into possibly being the next Jason Pierre-Paul of the New York Giants.
But potential can also be scary. A player like Ansah with very limited experience being thrown onto the field with the greatest football players in the world could also turn into a disaster. Add in the pressure of being selected that high by a bad team that will want him to produce right away, with just getting accustomed to a new city and the riches that come with being a professional football player, could be too much for the man from Ghana to handle.
Star Lotulelei
Todd McShay
Star is dominant along the interior. Studying his film, he reminds me of Ndamukong Suh coming out of Nebraska. Lotulelei, across the board, is a very good player in every area, and is exceptional against the run. Talk about versatility - he's a guy who I think fits best as a 5-technique defensive end in the 3-4, but can play nose tackle in a 3-4 or a 4-3, as a defensive end or a defensive tackle. He can play all over the field, and he can be a three-down football player. I think Lotulelei is on one of the ten best prospects in the NFL draft.
Peter Schrager, FOXsports.com
Lotulelei's stock took a hit at the Combine when there were health concerns that kept him from working out. He performed well at his Pro Day, has checked out and been cleared medically, and could be the next Haloti Ngata. Already married with two daughters, Lotulelei's got his head on his shoulders. He's a relentless worker with no ego.
NFL.com
This active wide-body struggled with his weight and passion for the game while in Junior College, but Lotulelei (pronounced lo-too-leh-lay) has worked hard over the past couple of seasons to become the Pac-12's best defensive lineman (20.5 tackles for loss, 6.5 sacks over the last two years) and a probable first-round selection at nose tackle.
CBSsports.com
Boasts all of the physical traits to ultimately rank as one of the better, more versatile defensive linemen in the NFL.
Flashes an explosive burst off the snap. Possesses the lateral agility and flexibility to slip through gaps and ruin plays before they even have a chance to begin. Strong, heavy hands to control his opponent and possesses the upper and core strength to simply rag-doll offensive linemen. Possesses a thick, classic Polynesian build well suited to anchoring against the run, making him a natural candidate to play inside at nose guard or defensive tackle, as well as a five-technique defensive end.
Star Lotulelei
| | |
| --- | --- |
| Height | 6'2" |
| Weight | 311 lbs. |
| 40-yard | 5.19 sec |
| Bench press | 38 reps |
| Vert. jump | 30 inch |
Kevin Graham, KSL.com
If Ansah is the equivalent to an aggressive stock, Lotulelei is your more conservative approach to the old 401K. After doctors cleared him from a supposed heart condition discovered at the NFL combine, Lotulelei's stock has shot up once again. Unlike Ansah, he has played football a good portion of his life. After not academically qualifying to attend his original school of choice, BYU, and after quitting football after his first season at Snow College, Lotulelei emerged to become one of the best defensive tackles in the Pac-12, let alone the country. His ability to dominate inside with his power and quickness has NFL scouts comparing him to the Baltimore Ravens Haloti Ngata. One could argue that without Lotulelei, the Utes wouldn't have even won five games this past season.
There really isn't a complete downside with Lotulelei, other that some draft experts question whether he gives maximum effort on every single play. And when compared to Ansah, his upside may not be as great
×
Related Stories