SALT LAKE CITY — Recent events, including a bombing at the Boston Marathon and a massive explosion at a fertilizer plant in Texas have brought a new awareness of the SWAT team and the important part they play in major events.
Dozens of officers in Utah will be put to the test in the coming week as they try to become a member of the SWAT team. Sunday was the first day of classes for those who wish to join the elite rank of first responders.
"I'm here because this is my dream," said officer Mitchell Brooks. "I want to be here."
As authorities closed in on the Boston Marathon bombing suspect, the nation saw what members of the SWAT team could be called to do. Not everyone will make the cut at SWAT school, only those who show tremendous physical and mental skills.
Thirty officers were up before sunrise Sunday, getting schooled in discipline and physical ability. The first challenge: an obstacle course with very difficult tasks, and a 15-foot wall to climb over.
It was easy for some, more of a struggle for others.
"It's something that if you haven't practiced for, or if you don't have the upper body strength to do it, for some, it's impossible to get over," said Lt. Rich Brede.
Those trying out were also forced to run the course with body armor and equipment, significantly adding to the challenge.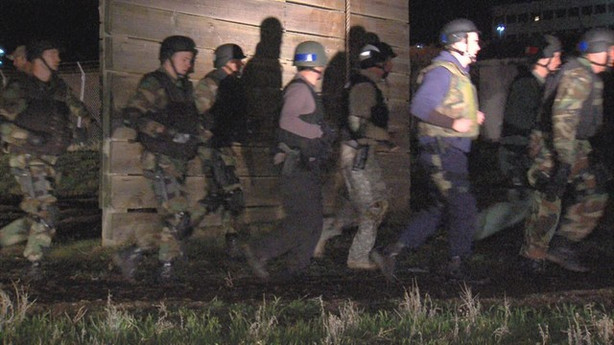 SWAT school continues for the rest of the week. Officers will go through more physical tests as well as aptitude tests. In addition, they'll go over scenarios and different exercises to reinforce what they're being taught.
Officers said the effort can take its toll.
"I would hope that they would all make it, but history has shown that as the week progresses, the body starts to fail and we could have a few that withdraw," Brede said.
"You start out feeling good and it slowly pulls it out of you until you're doing everything you can just to make it to the end," said Daniel Valenzuela.
Why do all of this? Why go through the effort to be a part of a team that's highly disciplined and motivated? For Brooks, the answer is to do good.
"They throw themselves toward the threat, they put themselves in a situation, in a position to do good," he said.
Officers said the manhunt in Boston is a good example of the work the SWAT team can do.
"We recognize that we are integral as an additional resource to the law enforcement first responder response," Brede said.
×
Photos
Related Stories