Estimated read time: 3-4 minutes
This archived news story is available only for your personal, non-commercial use. Information in the story may be outdated or superseded by additional information. Reading or replaying the story in its archived form does not constitute a republication of the story.
What do HBO and BYUtv have in common? The answer is "Granite Flats," a brand new series featuring an ensemble cast that includes actors from all corners of Hollywood, including an HBO regular.
The BYUtv ecosystem will be rattled on Sunday with the debut of this groundbreaking new weekly show. The first scripted serial to run on BYUtv, "Granite Flats" ushers in the dawn of a fascinating new era in family entertainment as a Mayberry-esque family-centric television methodology with a 21st century makeover.
In "Granite Flats" viewers find themselves in 1962 as a newly widowed single mom, Beth Milligan, and her son Arthur make a life-changing move to Colorado. A series of mysterious events surround the death of Arthur's father, an Air Force pilot.
Questions continue to mount as a mysterious object is witnessed traversing the sky, initiating an investigation that will redefine the Milligans' world forever, shedding new light on what may have really happened to Mr. Milligan.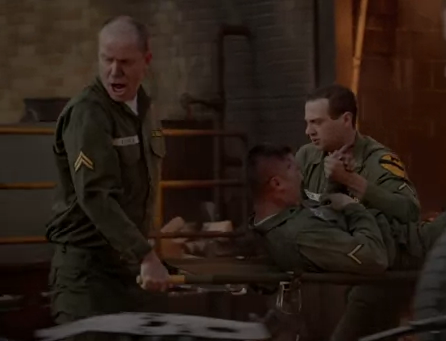 Pieces of a puzzle come together to paint a picture of a new world reality quite different from any previously seen. Missiles are being moved into Cuba. John F. Kennedy is at the helm of the White House, accused of leading America to the brink of full-out nuclear war.
Based on actual Cold War events, "Granite Flats" provides a glimpse into a time marked by mystery and intrigue. At first glance, it has all the markings of an "Andy Griffith Show" type redux in a world of high-definition color cameras. Viewers will soon find a far deeper world being crafted, vividly representing the world as it would have appeared against historically accurate events and backdrops.
An all-star cast and production team has been assembled to ensure that "Granite Flats" is on par with what one would expect from a modern television series. With actors who have performed in everything from "Family Guy" to "Criminal Minds," "Granite Flats" will provide a stark contrast to productions cobbled together on virtually non-existent budgets featuring starving BYU student actors.
---
"Granite Flats" provides a refreshing environment devoid of all sexual innuendo and inappropriate language.
---
"Granite Flats" provides a refreshing environment devoid of all sexual innuendo and inappropriate language to help bring back traditional family values in TV. It's also devoid of an over-the-top evangelism agenda. No missionaries roam the streets of Granite Flats, Colo., and viewers will not find stereotypical sacrament meeting scenes.
Designed to appeal to viewers of all faiths, "Granite Flats" helps fulfill the BYUtv vision to "see the good in the world." For a show airing on Sunday, the content is non-traditional and far from the conservative Bible videos that have come to define the limits of acceptable Sabbath entertainment for many.
The hour-long episodes will begin April 6 at 4 p.m. and will air weekly on Sunday nights at 6 p.m.
Joseph Irvine is an engineer in Madison, Ala. Currently working as a senior consultant for Booz Allen Hamilton, he enjoys writing and the theater. A young single adult, he spends his spare time trying to cultivate meaningful relationships.
×
Related links
Related stories
Most recent Utah stories