Estimated read time: 2-3 minutes
This archived news story is available only for your personal, non-commercial use. Information in the story may be outdated or superseded by additional information. Reading or replaying the story in its archived form does not constitute a republication of the story.
PROVO — Watching Jamaal Williams electrify the Cougar backfield last year was impressive, not just because of his nearly 1,100 rushing/receiving yards or his 13 touchdowns, but because he did it as a 17-year-old true freshman.
A minor playing a major role.
Those youthful days are officially over. Today, Williams turned 18.
"Old man." Williams said as he joined Alex Kirry and I on Cougar Sports Saturday.
His new found maturity is accompanied with the maladies of aging.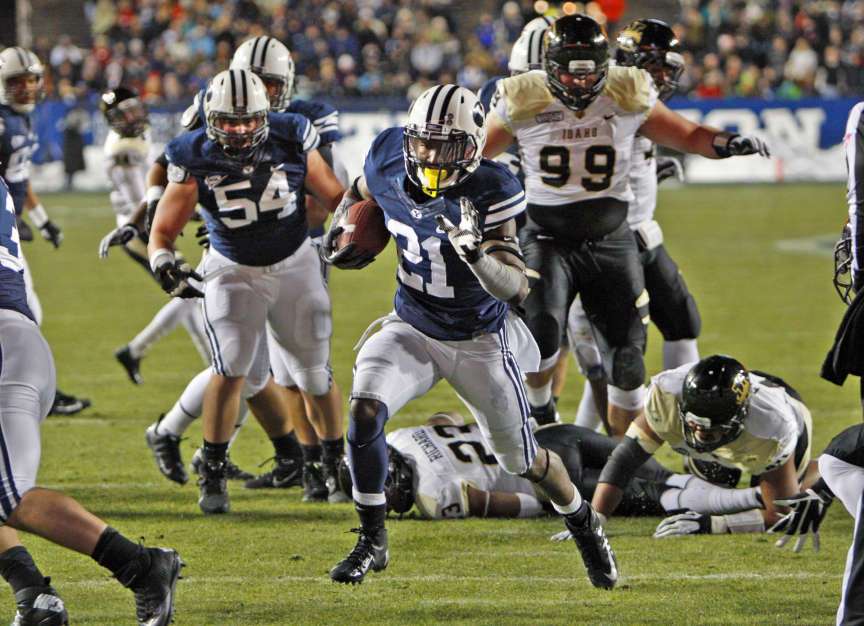 "I got joint problems and everything." said Williams.
I hate to break the news that those are most likely growing pains, but I can imagine that they are easily confused.
On Satuday's Blue and White scrimmage, coaches held Williams out of taking extensive reps.
"Coach said one series, I didn't think he was serious about one series, so for the next one I was like 'Coach, I'm going back in?' and he's like 'No, you ain't going back in there. You're done." Williams said with his 1,000 watt smile.
Williams has enjoyed spring practice and the fresh faces on the offensive coaching staff, especially offensive coordinator Robert Anae.
2012 RUSHING Stats
| ATT | YDS | AVG | LNG | TD |
| --- | --- | --- | --- | --- |
| 166 | 775 | 4.7 | 49 | 12 |
"He's brought a very fast intensity. He has no mercy for nobody, really. He doesn't care who it is. He actually got on the practice refs because they didn't spot right." said Williams, "So, he doesn't care who it is, he'll get on anybody and that's what we like about him."
2012 RECEIVING Stats
| REC | YDS | AVG | LNG | TD |
| --- | --- | --- | --- | --- |
| 27 | 315 | 11.7 | 39 | 1 |
Williams also gave a unique insight into the often reserved Anae, "At practice he can go relentless, he doesn't care about anything except for trying to get everybody to execute. If it isn't practice he's very jokeful and everything."
As we wrapped up the interview with Williams, we granted Jamaal a birthday wish, a shoutout on Cougar Sports Saturday.
"I'd like to give one out to my momma."
"My, Uncle Bo."
"My, Auntie."
"My sister back home."
"My daddy."
"My grandma."
"My grandpa."
"Sugar momma."
"Great grandpa."
"Papa."
"I got my brother Dante."
"I got my other brother Niko Taylor, he's in Louisiana."
"I got my boy Bernard Porter, he's a quarterback, he's in California."
"I got a lot more, but I don't want to take all your time."
No worries Jamaal, it's your birthday, you get all the time you want.
×
Most recent Sports stories