OGDEN — An Ogden man has raised more than $38,000 to create a minimalist wallet that, in a play on his name, will "put a crab in your pocket."
Ogden resident Ryan Crabtree started the search for a wallet that could keep track of his cards, keys and phone during softball season, so he could go to games without losing track of his belongings. He couldn't find anything worth buying, though, so he decided to make his own.
After a week or two spent with his wife's sewing machine and getting sewing tips from his mother — "I took a sewing class once, in seventh grade," he said — he had a workable prototype: a flexible, minimalist wallet with hair elastics to attach to a cellphone and key.
"I was basically making a different kind of wallet every day for a week or two, until I got it to where I wanted it," Crabtree said. "Then I realized I wanted to make these for someone else, and see how they like it."
He made about 30, and his wife posted pictures to Instagram asking if anyone would like to test the wallet. He sent the prototypes out and used the feedback he received to adjust the pattern, making the keyring loop smaller and switching out the hair elastic for a thicker band. He also added color choices.
Eventually, he got to where he could make about 10 of the wallets in an hour. His friends started calling it the "Crabby Wallet," after Crabtree's nickname, and said Crabtree should add a crab to the front of the wallet — "It's only natural," they said.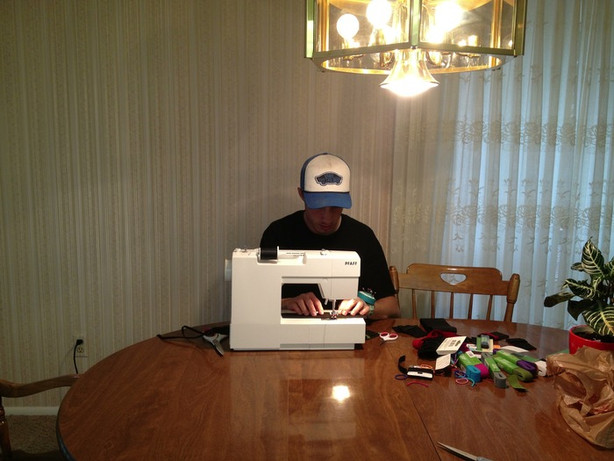 Crabtree decided to put the project on crowdfunding site Kickstarter, where with 31 days to go, it has already raised more than $38,000.*
"I was not expecting it to take off as quickly as it it," he said. "I definitely wasn't expecting that."
He said the experience has been an exciting one, especially as he has started to use the Crabby Wallet in his everyday life. The wallet was particularly useful on a trip to California, when a friend of his lost his credit card in his own wallet.
His friend noticed his credit card was missing when they got to the airport on their way home, and couldn't find it in his wallet. He called the rental car company and asked them to check the car.
"He ended up taking everything out of his wallet once we were on the plane and found his credit card buried in his wallet, and I was just surprised at how much stuff he had in there," Crabtree said. "Whereas everything I had with me was really convenient and accessible."
---
*ksl.com has not verified the accuracy of the information provided with respect to the account nor does ksl.com assure that the monies deposited to the account will be applied for the benefit of the persons named as beneficiaries. If you are considering a deposit to the account you should consult your own advisors and otherwise proceed at your own risk.
×
Related Links
Related Stories