This archived news story is available only for your personal, non-commercial use. Information in the story may be outdated or superseded by additional information. Reading or replaying the story in its archived form does not constitute a republication of the story.
SALT LAKE CITY — Would you live in a home carved out of a boulder? How about a house made to look exactly like a toilet? While you may answer no to some of these questions, others have said yes. Here's a peek at some of the wackiest homes on earth that prove just how far people will go to create their dream home.
The Ideal Palace, France
In 1836, Ferdinand Cheval was born in France as the son of a farmer. He died in 1924 as the owner of a palace he built by hand. But this isn't your typical rags-to-riches story; Cheval did not ascend to royalty and his palace wasn't encrusted with jewels. Instead, he became the rural postman to the village of Hauterives, France. Perhaps unsatisfied with an ordinary life, in 1879 — at the age of 43 — Cheval began building what he called his "monument to obstinacy." It began with the creation of a fountain made with seashells, snails, oysters and various stones assembled with lime mortar. It took him two years and won the admiration and amazement of friends and family — but of course, Cheval didn't stop there.
Night after night he worked, sculpting a monument that includes a cave, an Egyptian tomb, a spiral staircase leading to a terrace, a Hindu temple, a Swiss chalet, a medieval castle, a mosque and countless smaller monuments and intricate sculptures, all made by hand. While the various statues and monuments are numerous and extremely detailed, they are all of the same sand-colored hue and stacked together tightly in one mind-bending structure. The creation of the Ideal Palace, as it came to be known, took 33 years. The evolving work continues, however, as outside artists have placed their work on the grounds of the palace, which welcomes tourists year-round.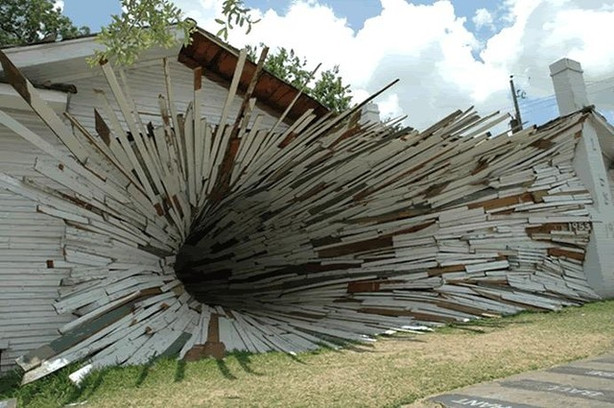 The Hole House, Texas
Speaking of mind-bending, two artists in Houston, Texas, created something just that. In 2005, sculptors Dan Havel and Dean Ruck were given as a medium for their art two neighboring houses that were slated for demolition. What happened next surprised everyone: The homes were sucked into a transdimensional vortex. OK, not really. But that's exactly how the finished piece was made to look. The artists used the exterior pieces of the house to create a funnel-like vortex from the outermost wall of one home, gradually shrinking to the end point on the outer wall of the other. They called it the Inversion Project. But like all things being pulled into a black hole, suddenly the houses were gone, never to be seen again: the Hole House, as the project came to be called, stood for just a few brief months before the homes were torn down to make way for a new Art League Houston building.
The Minister's Treehouse, Tennessee
Just about anyone who saw Disney's 1960 film "Swiss Family Robinson" or had visited its namesake attraction at Disneyland has harbored some secret fantasy of living in a treehouse. One man in Crossville, Tenn., made that dream a reality. But Horace Burgess was not content with a run-of-the-mill treehouse, or even with topping the fanciful Disney version. The massive structure began around an enormous 85-foot oak tree but is now supported by five others, and the sprawling treehouse has six levels and is estimated to contain 10,000 square feet of living space.
Related
With meandering balconies and a "staircase to nowhere," it's easy to see that the builder had no final plans before he set to work. That's because Burgess claims this is a divine project: "The spirit of God said, 'If you'll build me a treehouse, I'll never let you run out of material,' and I agreed to without seeing any dimensions," Burgess said in a video produced by Jynx Productions. And the work continues on. In June of 2012, the gigantic structure known as the Minister's Treehouse was inducted into the Guinness Book of World Records as the largest treehouse — but Burgess says he's not done yet. Meanwhile, he continues his work as a minister (in fact, the third floor of the treehouse contains a sanctuary with church pews) while as many as 100 people a day visit the mansion in the sky.
The House of Stone, Portugal
While living in a tree seems about as close to nature as it gets, how about living inside a boulder? On a remote hill of the Fife Mountains in northern Portugal sits the House of Stone, or Casa do Penedo, built into four large boulders found on the site and connected by concrete. It may look entirely rustic, the inside of the home is quite cozy with a fireplace and and all the modern amenities — even a swimming pool, carved out of the rocks. The home was built in 1974 as a retreat, but because of the droves of curious visitors and even vandals, the home's owner has had to take security measures (the house has bullet-proof windows and a steel door) and actually moved elsewhere to find privacy.
The Toilet House, South Korea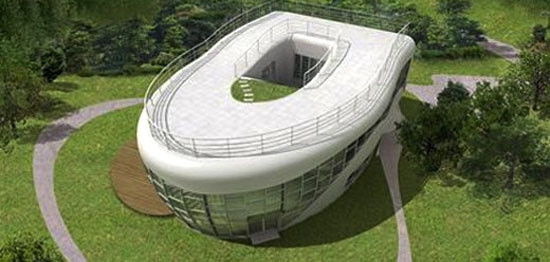 The final home on our tour is a toilet. I'm not making disparaging remarks; it really was made to look like a giant toilet. On purpose. That's because the owner, Sim Jae-duck, has an unusual fondness for commodes. He was born in a bathroom, due to his grandmother's superstitious belief that he would grow to become successful in life. Turns out he did, eventually becoming mayor of a South Korean town called Suwon. Through the years, he never lost his fondness for restrooms, proclaiming not only the need for better-quality sanitation for people around the world, but declaring the toilet "a place of relaxation and purging ... a place for introspection. The toilet is also a central living place that possesses culture." And so, the man nicknamed Mr. Toilet went on to commission a 4,500-square-foot luxury home with two bedrooms, two guest bedrooms, a swimming pool and three deluxe bathrooms — all in the shape of a giant toilet bowl. He called it Haewoojae, which roughly translates to "a place of sanctuary where one can solve one's worries." Sadly, Mr. Toilet passed away in 2009, but Haewoojae remains open as a toilet museum and monument in his honor.


×
Photos
Related Links
Related Stories