Estimated read time: 3-4 minutes
This archived news story is available only for your personal, non-commercial use. Information in the story may be outdated or superseded by additional information. Reading or replaying the story in its archived form does not constitute a republication of the story.
SALT LAKE CITY — Two women and a teenage girl who police believe robbed a man at gunpoint at a local motel after he met one of them online, were arrested early Wednesday.
The incident began at the Quality Inn, 1659 W. North Temple, about 1:30 a.m. when a woman was invited to the motel by a man she met online, said Salt Lake Police Capt. John Cardona. Salt Lake police declined to say Wednesday which website the two met on or what kind of meeting was arranged.
The mother and brother of one of the suspects, however, said the meeting was set up over the social networking site Mocospace by Felicia Losoya, 22.
Before heading to the motel, the woman allegedly sent text messages to two other women. When she arrived at the motel room and entered, her two friends followed a short time later. They assaulted the man in the motel room — hitting him with a gun — and robbed him at gunpoint, Cardona said.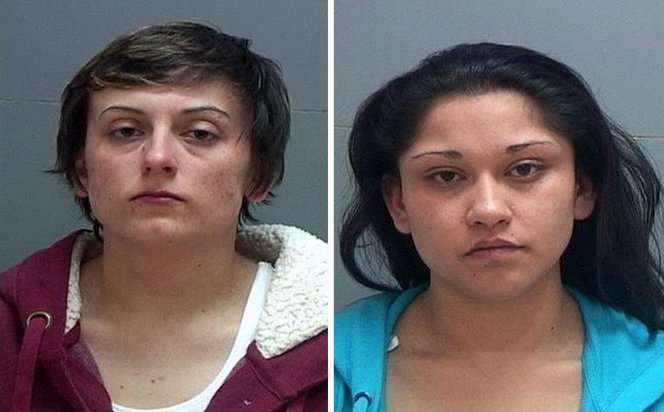 "Losoya pointed a BB gun at and pistol-whipped the victim," a Salt Lake County Jail report states. She then allegedly told the others to take about $330 from the 28-year-old man's wallet.
The trio then left the motel, but the victim was able to get a good look at their getaway vehicle, said Salt Lake police detective Dennis McGowan. Officers spotted the car near 200 East and 800 South.
After the robbery, the trio went to the apartment of the 17-year-old suspect. Her brother said they were noisy when they returned home between 4 and 5 a.m. and seemed panicked. Her mother, hearing the racket but unaware of the robbery, told the other two girls they had to leave.
After the two women left, they were quickly arrested by police who were outside surrounding the area.
By 7 a.m., police had surrounded the girl's apartment. Her mother said when officers came to the door, they ordered everyone outside and handcuffed them. Up to five adults and several children exited. Once detectives determined they had the girl they were looking for, the others were released.
Felicia Losoya, 22, and Tessa Brunson, 18, were arrested and booked into the Salt Lake County Jail for investigation of aggravated robbery. The 17-year-old girl was booked into juvenile detention for investigation of the same charge. Her name was not released.
---
You're engaging in risky activity by making contact with people on these websites you're unfamiliar with. Think of the consequences of what might happen.
–Detective Dennis McGowan, Salt Lake City Police Department
---
"Right now, it's all shocking because it's hard to believe coming from my daughter because she's always been a good girl," said the girl's mother who asked not to be identified.
Losoya pleaded guilty in 3rd District Court less than three weeks ago to felony unlawful acquisition of a credit card. She was given a suspended prison sentence and put on probation. Losoya stole credit cards from a vehicle and used them to make purchases at a Smith's in Sandy, according to court records.
She was also charged with assault and two counts of domestic violence in August, all misdemeanors. That case is still pending in Salt Lake Justice Court. In 2011, she pleaded guilty to an amended charge of misdemeanor attempted endangerment of a child.
Brunson was arrested in November for shoplifting. Her case is still pending in Salt Lake City Justice Court.
McGowan said the case should be a reminder to everyone who uses social networking sites to meet people to be cautious.
"You're engaging in risky activity by making contact with people on these websites you're unfamiliar with," he said. "Think of the consequences of what might happen."
Contributing: Pat Reavy
---
×
Photos
Most recent Utah stories