Estimated read time: 2-3 minutes
This archived news story is available only for your personal, non-commercial use. Information in the story may be outdated or superseded by additional information. Reading or replaying the story in its archived form does not constitute a republication of the story.
Amanda Butterfield reporting Two men opened fire at a busy downtown Salt Lake City store. That shooting took place in the parking lot of the downtown Sears store at 800 South and State Street in Salt Lake. A 16-year old boy was killed; another man was taken to the hospital in extremely critical condition.
It happened right here at about five o'clock, behind the taco carts on State Street. Witnesses tell police the two gunmen didn't say anything to the victims; they just pulled up and started shooting.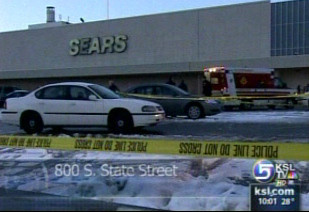 Lt. Dave Hoffman, with the Salt Lake City police, said, "When we arrived, we found two males have been shot, one of them fatally."
A 16-year-old boy died tonight after being shot in the forehead by a semi-automatic handgun.
"Witnesses told us there were two people in a white four-door Pontiac that pulled up and got of the car, and walked up with guns and just opened fire," Lt. Hoffman said.
Then the two men took off, down State Street. "We're going to track them down as best we can," Lt. Hoffman said.
Family of the young victim quickly arrived.
His cousin said, "They just told us to come over here fast 'cause they had shot my cousin."
Another man, in his early twenties, was also shot in the chest. He was taken to the hospital in extremely critical condition. We have learned his condition has since stabilized.
Though the shooting all happened outside in the parking lot, fear quickly spread inside the Sears building.
Shopper Angelique said, "We was getting our stuff, and the police told us, 'You gotta get out, get out now.'"
Shopper Tiffany said, "It scared me, and I grabbed my nieces and ran for the door."
Police thought they had the shooter inside Sears. Witnesses saw them throw a man to the floor. But they soon learned the man was actually with the victims and ran inside for help.
Police are now questioning that man and others who saw the shooting, trying to get a solid description of the gunmen and trying to determine a motive.
Lt. Hoffman said, "We're trying to find out if it is gang-related or dope, or what it is."
The two gunmen have not been found. They took off down State Street in a older model, white, four-door Pontiac sedan. One window is broken with plastic and duct tape on it. It's license plates possibly read 488-UTW, or something close to that.
×