SOUTH SALT LAKE — The search for a man who has been missing for 48 hours and is legally blind shifted to the Jordan River on Friday.
Benjamin Thomas Hyde, 35, was last seen about 4:30 p.m. Wednesday at Valley Mental Health's residential facility near 1000 West and 3600 South. Hyde is legally blind but has some sight capability and is still able to walk to certain places on his own, said South Salt Lake police officer Gary Keller. He frequently walks to places along 3300 South between 800 West and Redwood Road, Keller said.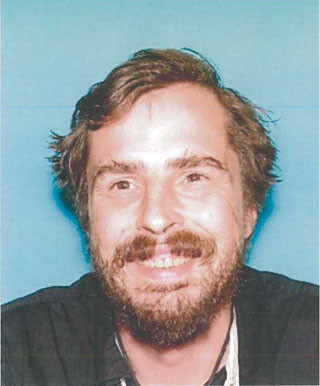 On Wednesday, Hyde walked to a check-cashing business. That was later verified by investigators using surveillance video. He went back to his room but did not show up for dinner at 5 p.m. and was not present to receive his medication at 8 p.m., Keller said. Hyde's coat and wallet were found in his bed.
In addition to his blindness, Hyde takes medication for an undisclosed mental illness. Keller said there was concern Friday that Hyde could become more confused the longer he goes without his medicine.
There is a trail that leads from the residential facility to the Jordan River Parkway Trail. Fearing that Hyde may have fallen in the Jordan River, Salt Lake County Search and Rescue crews were called to assist South Salt Lake police Friday in search for Hyde. Crews were searching the banks and river itself.
Because of danger posed by the rising water level, Keller said law enforcers did not want any volunteers from the community going to the area to help search.
Late Friday afternoon, Hyde's family arrived from Idaho to assist in the search efforts. They handed out posters with Hyde's photo and description, hoping someone sees him.
"We need a hundred thousand more eyes. We can't do this alone," said Sharon Roper, Hyde's aunt.
For the family, none of this makes sense. While he does have disabilities, they say Hyde always follows a daily routine.
When he didn't have his dinner Wednesday, or take his medication, at his assisted living facility, workers also knew something was wrong, his mother said.
"He makes it to the Maverik, he makes it to the check-cashing (business), and he makes it back home. And that's what ... we're concerned, you know?" said Kathy Auger, Hyde's mother.
Hyde is about 6 feet 1 inch tall, weighs 180 pounds and has brown eyes and brown hair. He was last seen wearing a dark colored shirt — possibly green — and dark pants.
"He's going to be confused if you see him," Roper said. "He's a friendly kid, but he will sound confused."
Anyone with information on Hyde can call police at 801-840-4000.
---
×
Photos
Related Stories