Estimated read time: 5-6 minutes
This archived news story is available only for your personal, non-commercial use. Information in the story may be outdated or superseded by additional information. Reading or replaying the story in its archived form does not constitute a republication of the story.
SALT LAKE CITY — Amid allegations of sexual abuse by University of Utah head swim coach Greg Winslow, some former athletes and their parents are claiming the university knew of inappropriate behavior for years but failed to do anything to stop it.
The University of Utah suspended head swim coach Greg Winslow Feb. 28 after allegations surfaced that Winslow had sexually abused a 15-year-old girl during his tenure as a swim coach in Arizona.
Since the allegations surfaced, some parents of former Utah athletes have come forward with claims of physical and emotional abuse, saying the University of Utah has been made aware of multiple incidences of abuse beginning with the 2008–2009 school year.
Kipley Siggard, whose daughter was on the 2008–2009 Utah swim team, said his daughter's time on the team was "highly uncomfortable." Most of the talk surrounding the Utah swim team was unsubstantiated rumor, but his daughter, along with other swimmers, made claims of abusive behavior by Winslow that ultimately led to at least two swimmers transferring to other universities.
"(Winslow) didn't distinguish between the men and the women, and the training routines just beat up the swimmers," Siggard said. "He was way more attentive to the female swimmers, but in some ways way more abusive, physically and mentally."
Related:
Siggard said his daughter suffers from exertional compartment syndrome in her legs, making it difficult for her to run, but leaving her able to swim.
"He didn't ever do anything of a sexual nature with her, but he really beat her up over this and was demeaning," Siggard said. "It was horrible. We felt our daughter was being broken down and didn't ever bounce back again."
His daughter ultimately transferred to Brigham Young University, where she continued to swim for two more years.
"She doesn't even like to talk about her Utah experience," Siggard said. "I think my daughter is really uncomfortable because she knew this was happening."
Siggard said other parents told stories of abuse — stories corroborated by letters obtained by Yahoo! Sports detailing the accusations, including one that Winslow had purchased alcohol for an underage swimmer, which Siggard also said had taken place.
Two athletes were allegedly made to swim a series of "underwaters" with a long piece of PVC pipe taped along the length of their backs. One eventually blacked out, according to accounts obtained by Yahoo!.
Another swimmer was allegedly made to do underwaters until he blacked out, at which point his teammates were told not to provide assistance. The swimmer apparently fell against the side of the pool, chipping a tooth.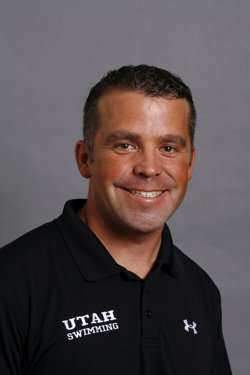 Aware of the complaints, Siggard's wife at the time went to athletic director Chris Hill to inform him of the treatment that the athletes said they were receiving.
"We went to Chris Hill saying this coach was just abusive in his training techniques and really demoralized people. They knew in her freshman year with all these kids being unhappy, and Chris Hill just told (her) we could pack up my daughter and look at another school and they would authorize her release," Siggard said. "They didn't deal with the problem at all."
Hill confirmed the university has been made aware of complaints against Winslow in the past, but he would not confirm what those complaints were or how many parents contacted the athletic department about Winslow.
Hill said the only "formal" investigation conducted by the University of Utah into complaints against Winslow took place in December. Former swimmer Austin Fiascone had sent an email to the university claiming Winslow had acted inappropriately toward him and other teammates.
University spokesman Keith Sterling has said that during the process of that investigation rumors came to light of inappropriate sexual conduct, but the allegations were denied by those interviewed.
Hill said he requested Sunday the appointment of an independent investigator to review the allegations. University of Utah president David Pershing chose lawyers Michael Glazier, based in Kansas City, Mo., and Alan Sullivan, based in Salt Lake City, to investigate the claims.
---
It was horrible. We felt our daughter was being broken down and didn't ever bounce back again.
–Kipley Siggard
---
"Specifically, I have charged Mr. Glazier and Mr. Sullivan to determine what, if any, incidents occurred within the swimming program; when did those incidents take place; what information was conveyed to the university about these incidents; what, if any, actions were taken in response; and what recommendations, if implemented, would better ensure the safety and well-being of our student athletes at the university," Pershing said Monday in prepared remarks.
The timeline for the investigation will depend on its findings, according to Hill. He declined to comment further on past allegations against both the university and Winslow.
"It's not that I don't want to say anything; I just don't think it's appropriate right now," he said. "It might get in the way of an investigation, and that's the last thing we want to do."
No charges have been filed in the current case, but a police report released earlier this month detailed the allegations. Arizona State University, where the alleged abuse took place, felt the accusations were serious enough to recommend two charges of sexual abuse.
University of Utah officials announced March 4 they would not renew Winslow's contract. As far as whether findings that corraborated the parents' claims would lead to Winslow's termination or any changes to university policy, Hill said "we don't know where it's going to lead us."
Hill appointed Richard Marschner, a third-year Utah diving coach, as the interim swimming and diving coach.
Video contribution: Devon Dolan and Sandra Yi
×
Photos
Related Stories