Estimated read time: 3-4 minutes
This archived news story is available only for your personal, non-commercial use. Information in the story may be outdated or superseded by additional information. Reading or replaying the story in its archived form does not constitute a republication of the story.
SALT LAKE CITY — Utah's one-man wreaking crew, the human force of disruption and destruction, is in a strange place as NFL Combine week heats up.
Star Lotulelei is supposed to be solidifying his Top 5 NFL draft status, maybe even cementing his spot at THE No. 1 pick overall in the April NFL Draft in Indianapolis right now. Instead the 6- foot 2-inch 311-pound defensive tackle is back here in Salt Lake City, staring down his fears and facing the most significant series of doctors visits and heart tests of his life.
When tests for the NFL Combine showed an abnormality, Lotulelei was told by the NFL not to attend this fabled talent showcase, one that can determine draft order and lucrative signing bonuses. An echocardiogram revealed the former Utah star has a heart condition that could be severe and at the very least demands further testing.
---
This is a red flag. And it does warrant further evaluation.
–Dr. John Day
---
The first team All-American has an abnormally low ejection fraction, indicating that his left ventricle (main heart muscle for pumping blood through his body) was pumping at only 44 percent of efficiency, not drastically below the average of between 55 and 70 percent efficiency.
"This is a red flag," says Dr. John Day Cardiologist for the Heart Institute at Salt Lake City's Intermountain Medical Center, "And it does warrant further evaluation." Dr. Day is not Lotulelei's doctor, nor has he seen any of the test results, but Day fully understands the vagaries of this ejection fraction percentage evaluation.
"An ejection fraction is a measurement of the percentage of blood leaving the heart with each heartbeat." So, as Dr. Day explained to me while 44 percent sounds seriously low, it's really not when you consider a normal ejection fraction is between 55 and 70 percent.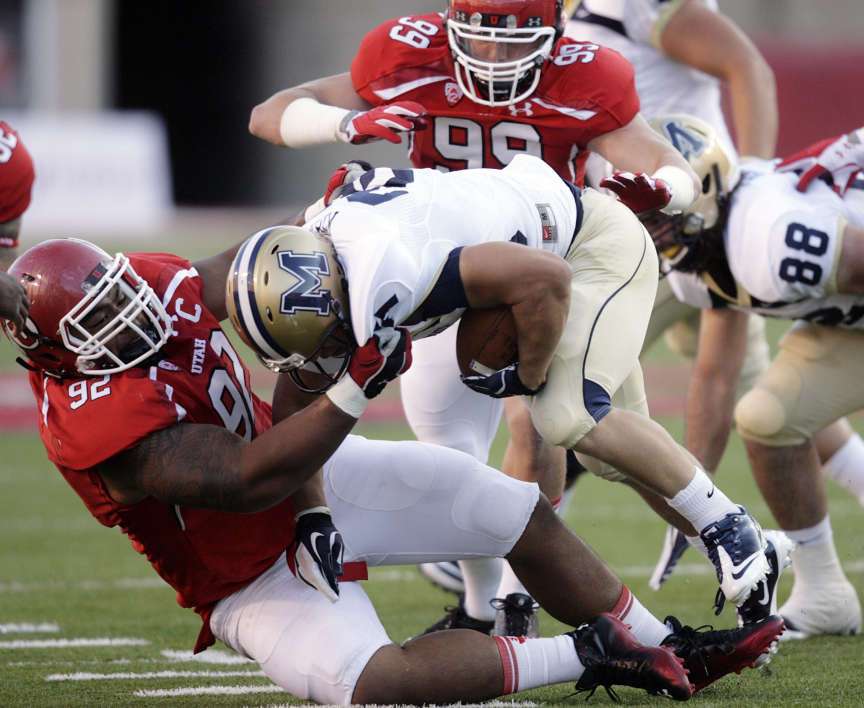 "We have to be able to explain why is it reduced and there may be something there that may be reversible, this could potentially be a permanent thing but certainly a low ejection fraction is cause for concern because it can lead to other heart problems or even death," explains Dr. Day. "It also could be the result of some underlying heart condition that we're not aware of, it could also be caused by a simple virus that might attack the heart."
On KSL TV's SportsBeat Sunday Dr. Day explained these now crucial and vital high-level battery of tests to be conducted here this week, could indicate the severity of Star's heart trouble right away or be a building block in a diagnosis and treatment that could take weeks or months.
"Yes his (ejection fraction) is just mildly down but we have to get answers, we have to get answers, we have to figure out why it's reduced."
The good news? According to Dr Day, "Particularly in the young a low ejection fraction is more likely to be reversible."
Another factor in this delicate cardio-equation is that the test used, the echocardiogram is not a 'black and white' measure. It can be open to interpretation.
"The echocardiogram is not a perfect test,' Dr. Day said. "It can be read differently, there can be some variation in results."
So as several NFL teams contemplate risking a high draft pick on Lotulelei, committing millions of dollars to him to help stabilize their defense, the stakes are obviously huge for the former Bingham Miner standout.
First and foremost, obviously this next round of tests this week will hopefully identify the exact heart ailment. Doctors will then pursue a protocol of treatment, recovery and if his stars are aligned properly, Lotulelei will be cleared to resume his football career.
Will this most optimistic scenario happen fast enough to allow him to perform in front of NFL evaluators at Utah's Pro Day coming up on March 20? That's the first of many $64,000 questions, and the answers could add up to millions.
×
Related stories
Most recent Sports stories