FRANCE — Mini Coopers are known for being fast, small and capable of being the focal point of a pretty cool movie car chase. Now, they'll also be known for pulling off backflips.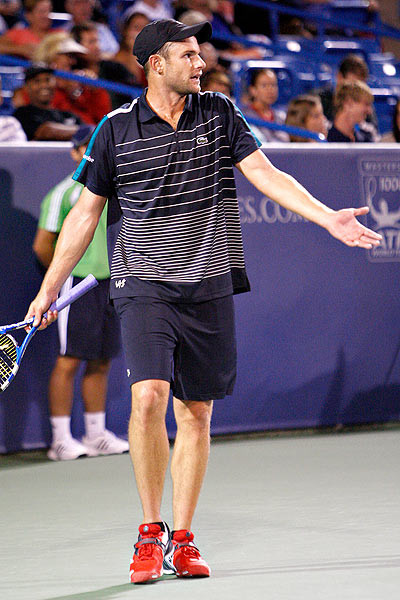 This video is a couple of days old now, but it's still impressive. Daredevil Guerlain Chicherit pulled off a backflip in a Mini in Tignes, France, and watching it go down is pretty incredible.
Looking at the launch ramp and realizing you're trying to flip an entire car it seems impossible, but leave up to Mini engineers and Chicherit to pull off the impossible.
Roddick jumps in rankings
American tennis player Andy Roddick stepped away from the game when he lost to Juan Martin del Porto in the U.S. Open last year. Roddick hasn't played in a match since, but he's still managing to climb the rankings board.
New world rankings were released, and the retired player jumped from 42 to 40. The rankings look at the last 52 weeks of play, and Roddick managed to win some matches during that time period, which is what boosted his ranking. But it still doesn't seem right that a guy who no longer plays the sport is jumping active players.
Winter free running in Utah
Professional free runner Ronnie Shalvis pulls off his impressive tricks and flips in the winter wonderland known as Utah.
The video shows Shalvis performing stunts on ice skates, in a snowstorm and off of parking structures. It's impressive to watch what Shalvis is capable of, and it's also fun to see him do it at places we recognize, like the Gallivan Center and Park City.
Swatch Skiers Cup
Last week we gave you a Have You Seen This of skier Sverre Liliequist staying ahead of an avalanche as he pulls off an epic backflip.
The video is amazing, and it was the highlight of the Swatch Skiers Cup. Well, here's a video highlight of the entire event.
Something about the visuals and music are hypnotizing and beautiful. It's a video I can watch again and again. These guys are athletes performing at the top of their game.
If you liked watching Liliequist backflip an avalanche, you're going to love this video.
×