Estimated read time: 2-3 minutes
This archived news story is available only for your personal, non-commercial use. Information in the story may be outdated or superseded by additional information. Reading or replaying the story in its archived form does not constitute a republication of the story.
PROVO — A 69-year-old Provo man was killed after being hit by both a vehicle and a FrontRunner train Friday morning.
The incident happened about 7:30 a.m. at a FrontRunner railroad crossing near 700 West and 600 South in Provo. Detectives believe that a woman driving an Escalade hit Douglas Crow on a bicycle with her front bumper and pushed him onto the train tracks, said Provo Police Lt. Mathew Siufanua. Crow was then hit by the FrontRunner train. He died a short time later at Utah Valley Regional Medical Center.
Douglas Crow's son said his father would ride his bicycle each morning. According to Mel Crow, Douglas worked for Brigham Young University as a custodian.
"The day after Valentines Day makes it a little more rough," Mel Crow said. "I just saw him yesterday and had lunch with him, so it's amazing how fast things happen."
He said his father was planning to retire in 2014. Now the family will have to cope with his loss.
"He's a great guy. I'm going to miss him," Mel Crow said.
Several questions remained outstanding Friday, including what condition Crow was in after being hit by the vehicle, how long he was on the tracks before being hit by the train and whether the crossing arms were down yet when the bicyclist was allegedly hit by the Escalade.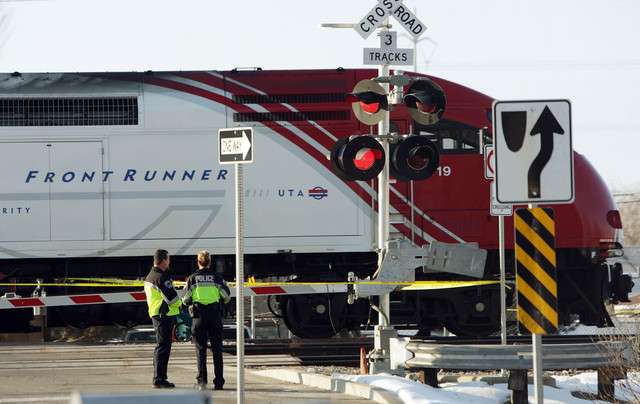 "We will look at every angle on this traffic accident and try to figure out if there was ice on the window, if she was blinded," Sifuhanua said. "We don't know. Hopefully, with our investigation and as we talk to her, we'll get more of the details from here."
Neighbors who live next to the crossing, said they frequently see drivers who are unsafe around the tracks.
"People are in a hurry — too big of a hurry — and want to beat the train; and I think that is why these things are happening," said Provo resident Randy Biertel.
The vehicle believed to have hit the cyclist was found stopped 20 yards away from the intersection, after having already driven over the tracks, Siufanua said.
Photos submitted to KSL's iWitness app showed a bike still near the tracks, and a witness on the train reported seeing debris on the tracks prior to the train hitting the pedestrian.
The Utah Transit Authority set up a bus bridge between Orem and Provo to accommodate passengers during the time that the train was out of service.
Contributing: Sam Penrod and Randall Jeppesen
×
Photos
Related Stories