PAYSON — Paying her way through high school activities by baking and selling cookies, Miranda Hyer is continuing what has become a tradition as she navigates her first year of college.
Miranda was 13-years-old when she joined an accelerated softball team. Coming from a family of seven kids, she knew she was responsible to pay for extra activities. When she asked her mom, Trudi Hyer, what she could do, she suggested baking sugar cookies.
"My mom did this when she was in college at Rick's College," Miranda said. "She would just sit at a table and the orders were already on it and then she would take other orders."
So she started taking orders. The first year, 2007, she sold about 100 cookies, mostly to her softball coach.
"I was very nervous about it the first time and I was shy," Miranda said. "I said, 'I don't want to knock on people's doors.' But my mom said 'you know what, you're not going to get money if you don't.' So I just started."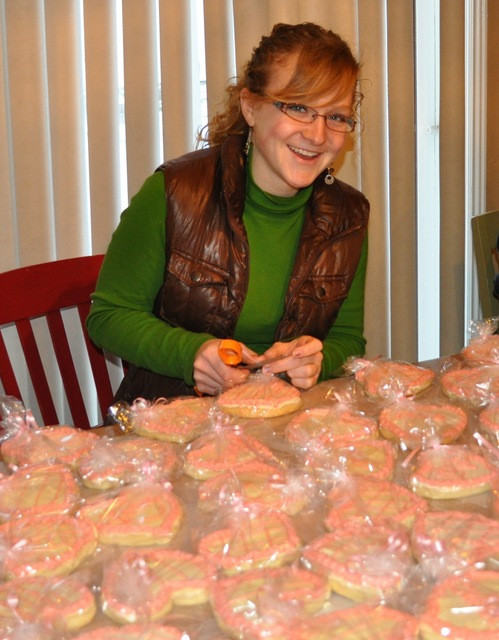 Trudi helped Miranda mix the ingredients of a secret recipe and roll out the dough. Miranda said the first time she did the fundraiser, she would press the cookie cutter into the dough, but was too nervous to write names in the icing.
After six years, thousands of cookies and obtaining a food-handlers permit, Miranda has the entire operation down-pat.
"It's been fun to watch her take more and more ownership on this every year," Trudi said. "Every year she just does more and more. It's been fun for me to see her run with it."
As she entered high school, Miranda participated in more activities: softball, soccer, track and choir. She paid fees, bought equipment and paid for trips using the money she made from selling cookies.
"I'm just proud of Miranda because she is a worker," Trudi said. "I've never heard her complain about it once."
Miranda now attends Snow College in Ephraim and works as an ambassador for the school. But when mid-January rolled around, she started making weekly trips home to Payson to sell, bake, ice and deliver cookies.
"As soon I get home Friday afternoon till Sunday afternoon after church it's all cookies," Miranda said. "It used to be just for my sports, but my other brother is at college down at Dixie and my younger brothers play soccer and accelerated sports, so I figured some money could go help pay for them."
Miranda's valentine cookies
Number sold each year:
2008: 100 2009: 250 2010: 500 2011: 870 2012: 1,208 2013: 1,450
Order information:
$1.50 a cookie or 4 for $5 Miranda: mirandahyer@gmail.com Trudi:"=trudihyer@gmail.com
This year, they have sold more than 1,400 cookies and they've already delivered just over a thousand. They used to only deliver cookies on Feb. 13 and 14, but have expanded their deliveries from about the beginning of February to a little after Valentine's Day. Her mother still helps her bake and decorate the cookies, her brothers help deliver flyers and cookies, and her father will pitch in with baking and delivery.
"I love hearing people's responses to them. (They'll say,) 'I don't like sugar cookies, but this sugar cookie was so amazing!' I like making people happy with food," Miranda said. "You go to Trudi's house and there's always something good to eat. I've always wanted that when I get older. I enjoy the response I get from people and how much they enjoy it."
The community has come to expect and love the annual treat. Miranda said parents will send them to children on religious missions — once even to Germany — and people hand them out as valentine treats.
"I just think it's been fun for the community, for the neighborhood. There are some people who order cookies and this is the only time we hear from them," Trudi said. "We don't really have much contact, but every Valentine's we are able to make cookies for them, so we talk to them every year because of the cookies. I think it's helped our relationship with family and friends."
Even more than the financial help, Miranda and Trudi value that the project has helped them become closer.
"It's hours and hours upon end in the kitchen, and sitting there icing cookies gets monotonous, so you get talking," Miranda said. "My mom had a couple dozen she had to do while I was down here and I got a text from her and she was like, 'Wish you were here. I'm icing cookies and watching chick flicks.' It's so fun. I really think it has helped my mom and I get closer."
×
Photos
Related Stories