Estimated read time: 2-3 minutes
This archived news story is available only for your personal, non-commercial use. Information in the story may be outdated or superseded by additional information. Reading or replaying the story in its archived form does not constitute a republication of the story.
PROVO — My love for you is as tiny as the tiniest carbon nanotube.
Perhaps it's not the most romantic valentine message. But it means a whole lot more when you see the love and detail that BYU professor Robert Davis puts into his nanotube sculptures, including a teensy-tiny Cupid released just in time for Valentine's Day. Perhaps the smallest cupid ever printed.
Davis and his team are able to use small patterns of iron molecules printed on a plate as seeds. When a hot blast of ethylene gas is applied to the iron seeds, a veritable forest of nanotubes springs forth, in whatever pattern has been laid down, be it a Cupid or a BYU logo featuring a roaring cougar.
"It's a really fragile structure at this point — blowing on it or touching it would destroy it," Davis said.
In order to make the structure stable, they coat it with various materials, including metals.
But why do this at all? What's the point of printing nanotube forests the size of human hairs? At least one purpose is filtration.
With the technology Davis has developed, it is possible to produce a filter much more fine and with more evenly distributed holes than ever before, and on the cheap. That means it can be used in all sorts of specialized circumstances, including scuba gear or even mining.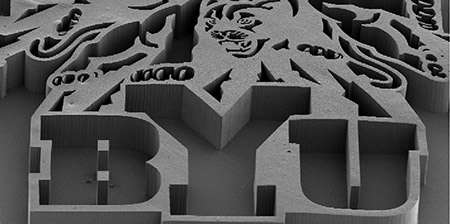 "One application is in the area of compressed gases like oxygen in the areas of health care, mining operations or scuba diving," Davis said. "Compressed gas systems can generate particles that need to be filtered out."
The idea is getting traction. BYU physics major and undergraduate researcher Lawrence Barrett took the idea to a competition called Innovation Idol, and was named Utah's 2012 winner.
"The funnest part of this project is that what we do, our angle of solving micro-mechanical problems, is so different than what anyone else has done," Barrett said. "We're not just making small improvements."
The technology is currently being licensed in the chemical separation industry, and researchers are looking to take the idea into the world of filtration.
×
Related links
Related stories
Most recent Utah stories