This archived news story is available only for your personal, non-commercial use. Information in the story may be outdated or superseded by additional information. Reading or replaying the story in its archived form does not constitute a republication of the story.
SALT LAKE CITY — For U2 fans, Tuesday was a Beautiful Day (and night) at Rice-Eccles Stadium.
Rock icons U2 returned to Salt Lake City more than a year after the band had to postpone the start of their North American tour.
"Thank you for coming out. And thank you for your patience," lead singer Bono told the more than 50,000 fans who attended Tuesday night's show. Outside Rice-Eccles, dozens of people who didn't get tickets lined up along the gates to listen and catch glimpses of the band on the giant video screen.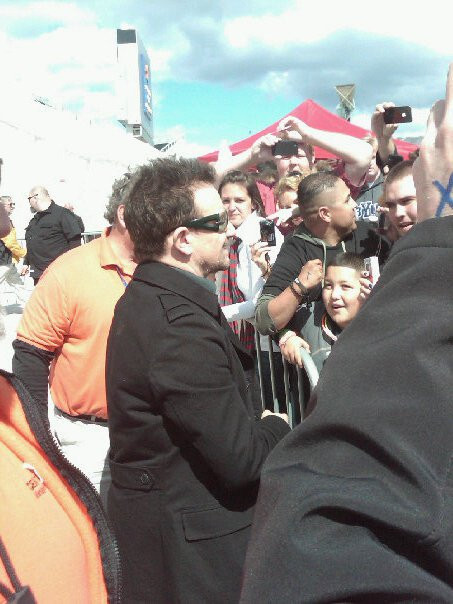 He said it was a year ago this week that he had emergency back surgery in Germany.
"I was in a lot of trouble. But things went really well."
He also noted to the crowd, many of whom had waited more than a year to see the band, "We are so much better this year."
The energized crowd jumped in unison with their fists in the air as U2 opened with "Even Better than the Real Thing" followed by "I Will Follow" off their 1980 debut album Boy.
Bono showed no lingering effects of the back surgery, moving and dancing around the giant stage to fan favorites like "Mysterious Ways," "Elevation," "Beautiful Day" and "Pride (In the Name of Love)."
While some things change, "Some things remain the same. Nothing phases this man," Bono said pointing to The Edge who was outstanding on lead guitar on songs like "Until The End of the World," "Get On Your Boots" and a great return of "All I Want Is You" to the set list.
The U2 360 Tour has already been declared the most successful in music history and the stage, known as "The Claw" is the largest stage ever built for a traveling rock production.
Prior to the show, Bono made a surprise appearance and joined the concertgoers to sign autographs. He spoke to KSL NewsRadio about the tour and about their stop in Utah.
So how does Bono like coming to Salt Lake City?
"Always a thrill," he said. "I think people here just really got sharp ears."
Bono said he got a fondness for Utah starting in the '90s with earlier tours. He says the band was actively tracking which audiences were listening to what particular kinds of music. Bono says Utahns were listening to some very interesting stuff.
"That's my impression. Maybe it's changed. I hope not," he said. "That's what you live for."
Bono says, who knows, maybe in upcoming tours U2 will play some of its B-sides. "I know that there will be an audience for it in Salt Lake," he said.
-----
Written with contributions from Pat Reavy and Paul Nelson.
×
Photos
Related Stories