Estimated read time: 2-3 minutes
This archived news story is available only for your personal, non-commercial use. Information in the story may be outdated or superseded by additional information. Reading or replaying the story in its archived form does not constitute a republication of the story.
SALT LAKE CITY -- From seafood to prices at the pump, the massive Gulf of Mexico oil spill will have an impact on the economy. The question is, how much will it be felt in Utah?
Related:
Even though it's thousands of miles away, the Gulf oil spill could be felt here too. Living in a global economy, a major event like this spill -- or Hurricane Katrina a few years ago -- can definitely have a ripple effect on things like gas prices, and definitely on seafood.
Just how big an effect is hard to predict.
Sellers and consumers of seafood are bracing themselves for higher prices. The impact on how much it'll cost to fill up your car is much less certain.
At the Aquarius Fish Company in Salt Lake they're following events in the Gulf very closely, keeping in contact with their supplier 200 miles west of the spill, and out of danger -- for now.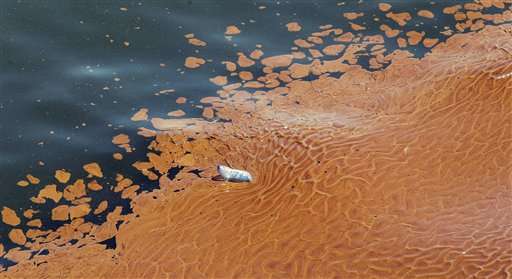 But if Gulf fish and shellfish get hit hard, as feared, it will undoubtedly drive up prices.
"Short term it hasn't had too much effect, but I think since they haven't capped it yet, it's going to raise prices," said Dan Sheldon, owner of Aquarius Fish Co. "There is a price threshold where people will switch to less costly items. I don't know that it's getting to that point yet, but it will definitely have an impact on prices."
Will the spill also impact gasoline prices here? Unlikely, says the Utah Petroleum Association. Most of our gasoline comes from the western U.S. or Canada.
But if the spill interferes with the many refineries in the Gulf region, that could cause prices to rise nationally, like they did after Hurricane Katrina.
Related:
President of the Utah Petroleum Association Lee Peacock said, "If it did impact their ability to import crude oil that comes through the Mississippi River, that could have an impact on the supply of refined products."
In the meantime, the spill is already reigniting the debate over drilling for oil off-shore, which President Obama recently expanded into the Atlantic. That's now been put on hold.
"The timing just couldn't have been worse in terms of off-shore drilling in this country," Peacock said.
Sheldon said, "That's an amazingly diverse ecosystem, almost unique in the world. And if it gets damaged heavily by something like that, I think they're going to find a big blowback on their drilling capabilities."
An economist who spoke with KSL says in terms of the larger economy, the oil spill is likely to be overshadowed by events in Europe, where they're trying to contain a debt crisis in Greece.
E-mail: jdaley@ksl.com
×
Related stories
Most recent Business & Tech stories