Estimated read time: 2-3 minutes
This archived news story is available only for your personal, non-commercial use. Information in the story may be outdated or superseded by additional information. Reading or replaying the story in its archived form does not constitute a republication of the story.
Photo courtesy of Life on State.SALT LAKE CITY -- Salt Lake County Mayor Peter Corroon sums up State Street in one sentence: "Retailers covet it, kids cruise it and urban planners hate it," he said.
"I don't care where you live in the county, everybody eventually uses State Street for one reason or another, " said Draper Mayor Darrell Smith.
A group of mayors and officials unveiled a vision for State Street Tuesday at the Salt Lake Chamber, hoping to shape the decisions planners and officials make in the future. The plans include adding monuments, trees and lighting while reducing the visual clutter of signs.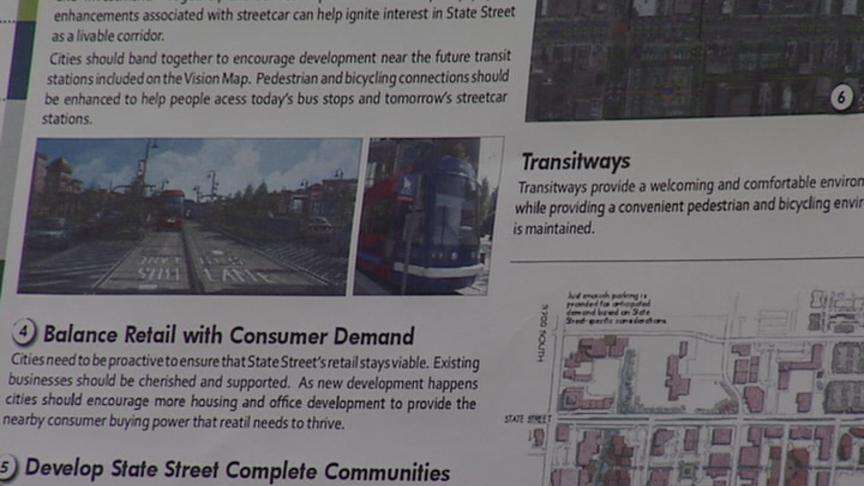 They say surveys and open houses showed the public want it to be more safe, beautiful and walkable.
Corroon says identity is also crucial.
"It is a gateway to many of our valley's cities, and it should reflect the diverse nature of our many cities. Unfortunately you cannot tell when you go along State Street when you are going from one city to the next. In other words, development along State Street has been a mess," he said.
The group has been working on the cooperative project for about 10 months now.
Murray Mayor Dan Snarr says the city has already been able to work with some of its businesses along State Street to have them build closer to the road and put parking in the rear.
Midvale Mayor JoAnn Seghini said she is happy that the Legislature's last session allowed funding to widen State Street from 7200 South to 8000 South, and thereby make the road safer and better through her city.
"I see State Street as a downtown for many of our communities, and continue to grow," Corroon said. "But grow in a good way rather than become more of an eyesore, which it has been in the past."
Planning officials expressed hope to eventually have bus rapid transit or streetcar systems along State Street as well.
E-mail: mrichards@ksl.com
×
Related links