Estimated read time: 3-4 minutes
This archived news story is available only for your personal, non-commercial use. Information in the story may be outdated or superseded by additional information. Reading or replaying the story in its archived form does not constitute a republication of the story.
MAGNA -- Utah ranks eighth in the nation in the number of suicides per year -- that's according to the Suicide Resource Center. One of those suicides last happened to a teenager from Magna named Justin Jones.
"My son Justin was a great son, my best friend," said Darren Lewis, Justin's stepfather.
---
Among 15- to 24-year-olds, suicide is the third leading cause of death and accounts for 12.2% of all deaths annually. -CDC
---
"My son Justin was an amazing son, an amazing football player, and was loved by everybody," said Alecia Lewis, Justin's mother.
Justin looked like the All-American teenager. The 17-year-old was a great student, a starting linebacker at Cyprus High School, with a good group of friends. He was less than two months into his senior year when one fateful night he found his stepfather's 9 mm handgun.
"The day was Oct. 28, 2009," Darren said. "It was the first game of the World Series."
Darren and Alecia went to watch the game with friends, but Justin was told to stay home. His parents discovered he'd been drinking that day, something they say was very uncharacteristic of their son.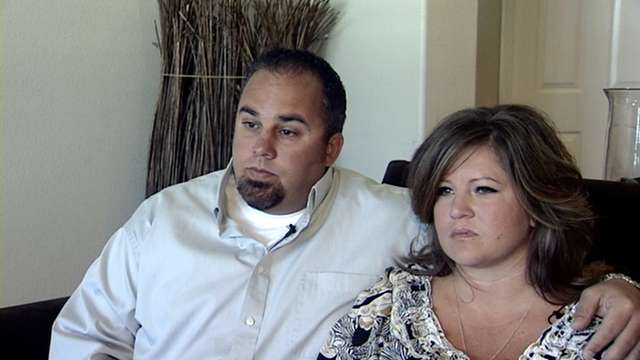 Justin left with his girlfriend, who also disapproved of his behavior. After he threatened suicide, she hurried to tell his parents. They immediately hurried home.
"As we pulled in the driveway, he was looking out the office window; and so I was at ease that he was OK," Darren said.
"Alecia set her purse down and asked Justin to come in and talk to us," Darren continued. "We never heard the gunshot. … She screamed and I ran in and told her to dial 911. I did CPR on him for about five minutes."
"I talked to him, but by the time they got here he was already gone," Darren said. "When he took his last breath, I knew he was gone. He died in my arms."
Intoxicated, Justin had shot himself in the heart. Ironically, it was the same way Darren's best friend killed himself eight years ago.
Because of that friend, Darren created the Fallen Brothers Foundation to help those affected by suicide -- a foundation Justin was involved in himself.
"It hurts," Alecia said, starting to cry.
Justin was buried days later. He left behind a note, one his mother still cannot read.
"I'm at that anger stage," Darren said. "I'm mad at him. I'm really mad at him 'cause I see what it's done to the family, to his friends."
Did you know...
In 2009, 13.8% of U.S. high school students reported that they had seriously considered attempting suicide during the 12 months preceding the survey; 6.3% of students reported that they had actually attempted suicide one or more times during the same period. -CDC
"We went to his graduation this year," Darren continued. "They said his name and we didn't get to see that. That was tough.
The toughest part, they said, is knowing Justin won't be coming home -- a fact that has devastated their 7-year-old daughter, Riley.
So, Darren and Alecia's message to parents is listen, love and accept your children when they make mistakes. To teenagers they say: Don't be afraid to admit those mistakes to your parents or to someone who will listen.
"Our child was good in school, he had friends, he was in sporting events," Alecia said. "If you're sitting there saying it couldn't happen to you, it can happen to you."
"Kids kind of think an ant hill is a mountain to them," Darren said, "and they don't understand that tomorrow is a different day."
So, Justin's parents are speaking out, hoping their son's tragedy will help save lives.
Saturday morning (Sept. 25) at Wheeler Farm is the Out of the Darkness Walk for suicide prevention. CLICK HERE for more information.
E-mail: kaiken@ksl.com
×
Photos
Related links
Related stories
Most recent News stories