This archived news story is available only for your personal, non-commercial use. Information in the story may be outdated or superseded by additional information. Reading or replaying the story in its archived form does not constitute a republication of the story.
SANDY -- Fans of Elvis Presley marked the singer's birthday this weekend -- he would have been 76 years old.
At his Graceland mansion in Memphis, Tenn., thousands showed up to attend the annual "Elvis Birthday Celebration," a 4-day event.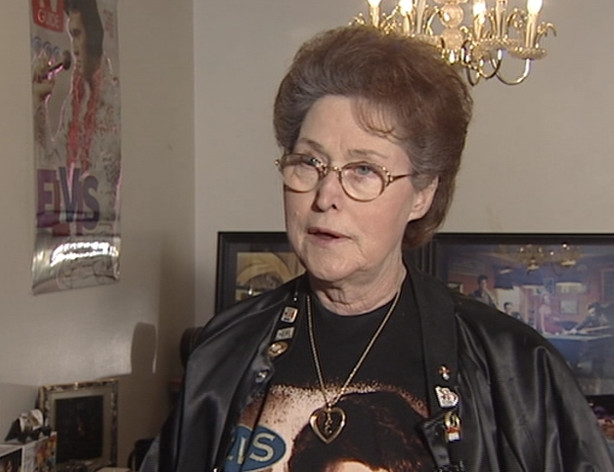 A Sandy woman, who has met Elvis and visited Graceland, marked his birthday by giving KSL News a look at her extensive memorabilia collection.
Holding up a metal box, Marge Higley said, "A friend of mine found this and said I just had to have it. It's one of the old Elvis lunchboxes."
Higley has been collecting memorabilia of "The King" for more than 40 years. If there's an item dealing with Elvis, she probably has it.
From playing cards, books, records, tapes, heart-shaped boxes of candy and dolls; hundreds of items fill Higley's living room and dining room -- and that represents only about one-fourth of the collection.
It's all in mint condition.
"I've got CDs that have never been opened," she said. "I've got LPs, I've got boxed sets that have never been opened. Some of this stuff won't be made again."
Higley met Elvis back in 1965 on his 35th birthday. She was a good friend with one of his cousins, so she had a unique perspective of the singer and his life for years.
Through those years, her collection continued to grow. She has several items that he autographed just for her.
But all this is bittersweet because Higley may have to sell the entire collection. She's been in the process of a loan modification on her house, which is the house she grew up in. If it fails, she could lose the house. Elvis, in a round-about way, may save it.
"I'm hoping to get the collection sold before the first of March. I'd like to put it on a website where people can see it all, just as the backup security," Higley said.
Right now, she is in the process of photographing all the items in the collection and trying to get an idea what everything is worth. She says she won't sell individual items, but wants someone to buy the entire collection.
"I would like for the right person at the right price, who loved Elvis and who would love this, to get in touch with me and let me know that they would like to have it and keep it all together," Higley said.
She said if she has to sell it, it will be like getting rid of one of her kids.
For more information about the Elvis Presley collection, you can contact Marge Higley by e-mail at margehigley@msn.com.
E-mail: kmccord@ksl.com
×
Photos