This archived news story is available only for your personal, non-commercial use. Information in the story may be outdated or superseded by additional information. Reading or replaying the story in its archived form does not constitute a republication of the story.
OREM -- The resilience of a boy from Romania has inspired everyone who meets him.
He survived a fire that killed his parents and has undergone countless surgeries. Now 12-year-old Marius Woodward is the subject of a documentary called "I Am Not My Body."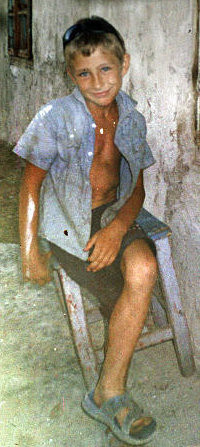 Marius was born a boy with a beautiful smile -- until November 2007 when a boiler in his home exploded, killing his parents.
Marius jumped out a window but suffered third- and fourth-degree burns over 75 percent of his body. He lost his eyelids and nose, and doctors amputated all 10 fingers because of an infection.
On a semester abroad, BYU students Jessica Free and Ashley Ludlow volunteered at the hospital where Marius was being treated. One of the women nearly fainted when she first saw him, but they soon knew they had to help.
"They came to the hospital to visit, and they played and we had a lot of fun." Marius remembers. "Then they talked with their parents [to] see if I could come to America so I could get surgeries."
"Jess sent pictures home on the Internet," said Kristin Free, Jessica's mother. "She was just talking through Skype with me on these various pictures of these little orphans, and she got to Marius and I was just a mess. I was just crying, 'Jess, tell me what happened.' And as she began to tell me that his parents had been killed and the story unfolded, I was so emotionally moved and I just asked her, 'What can we do?'"
What they ended up doing was taking Marius in under their roof for a while. Then Ashley's parents, Paul and Lynne Woodward, offered to adopt him.
Eight months after that initial contact, doctors at Shriner's Hospital in Los Angeles began their work. Marius first received new eyelids, a new nose and then fingers that were his toes.
"Now I'm doing laser surgery. I have like five more because they took the skin from here," Marius said, pointing to the back of his head. "Now my nose grows hair, so they need to take the laser to remove the hair; and they want to see if they can remove scar tissue."
His American families and friends love Marius, and a BYU filmmaker is working to share his story with many more people. "I Am Not My Body" tells of Marius, his families, and much more.
Mark Williams, a BYU Broadcast Communications student, is the filmmaker.
"What drew him to me so much is the power of his spirit," said Williams.
"It's so easy to be discouraged, and you look at somebody like Marius who has had so many terrible things happen to him, and he's happy," Williams said. "As I got to know him more, and the families who have helped him so much since he's been here in America and even before, it's so clear that he made a decision to be happy -- and it's a lesson we all can learn."
"I think we're all just so privileged to know Marius, the resilience is amazing," Kristin Free said.
Marius has another toes-to-hand transplant ahead, and he hopes to become a motivational speaker.
"Sometimes when I go to bed I think, sometimes: 'Why was I alive?'" Marius said. "It's like, 'Well, maybe I have something to do here.'"
No one who knows Marius doubts that he will.
The film "I Am Not My Body" premiers Tuesday night at 7:00 in the Joseph Smith Building Auditorium at BYU. Tickets are free, but donations are welcome. [CLICK HERE to register for your tickets]
Email: cmikita@ksl.com
---
×
Photos
Related Links
Related Stories