This archived news story is available only for your personal, non-commercial use. Information in the story may be outdated or superseded by additional information. Reading or replaying the story in its archived form does not constitute a republication of the story.
SALT LAKE CITY — It was a standout performance on NBC's "The Voice" Tuesday night by Utah's own Dia Frampton. The judges called her inventive and awesome, but she needs your votes to make it to the final round.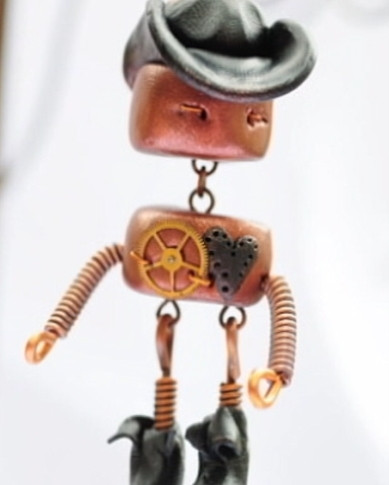 The slot for Dia's No.1 fan, however, may already be filled by coach Blake Shelton. With the help of her sister Meg Frampton, she was able to thank him with a one-of-a-kind gift.
"I design quirky stuff," Meg told KSL News.
"Quirky" is the right word to describe Meg's jewelry, but it's also very whimsical and unique. Many of them revolve around a robot named Chandler, and they've caught the eye of stylists on The Voice as well as Dia's coach, Blake Shelton.
"Dia had been wearing it around a lot, and Blake came up and said, 'Is that a robot? I want one. I want one that looks like a cowboy.' And Dia called me immediately," Meg said. "I was freaking out. Blake Shelton wants to wear one of my jewelry pieces!"
So, Meg got to work creating little robots with a western twist.
"Meg made him little 'cowbots,'" Dia said. "They were really cute. They had little boots. And she made one for Miranda."
Chandler the Robot

Want to see more of Meg Frampton's robot jewelry? Visit chandlertherobot.blogspot.com.
Miranda is country artist Miranda Lambert, Blake Shelton's new wife. Her "cowbot" has pink boots and a pink cowboy hat. Blake's is a little more masculine.
Meg will soon sell similar cowbots online as a special edition item — a piece to commemorate a top-notch judge and her sister's time on "The Voice."
To take a closer look at Meg's jewelry visit chandlertherobot.blogspot.com. And don't forget to vote for Dia on "The Voice;" just call 1-855-VOICE-03.
Voting closes Wednesday at 8 a.m. MDT, and a special results show is planned for Wednesday night at 8 p.m.
Email: sdallof@ksl.com
×
Photos
Related Links
Related Stories