This archived news story is available only for your personal, non-commercial use. Information in the story may be outdated or superseded by additional information. Reading or replaying the story in its archived form does not constitute a republication of the story.
PLEASANT GROVE -- A Utah County family has big plans for an old, historic church in Pleasant Grove. And while preparing for the building's future, they found a neat reminder of the past.
The steeple had been a long-standing staple in the small town of Pleasant Grove. And for Utah County resident Vickie Bott, the vacant church recently became part of a long-standing dream.
"People will think I'm crazy, but ever since I was 12- years-old, I wanted to buy a church; and I know that was not the norm," she said.
After attending a wedding reception in an old church, when she was a child, her goal to own a church of her own, set firm.
The Old White Church, as it is often called, has been empty for years, but Bott decided to buy it. Built in 1897, located in the Manila area of Pleasant Grove, it's a cherished landmark and a symbol of the city's history.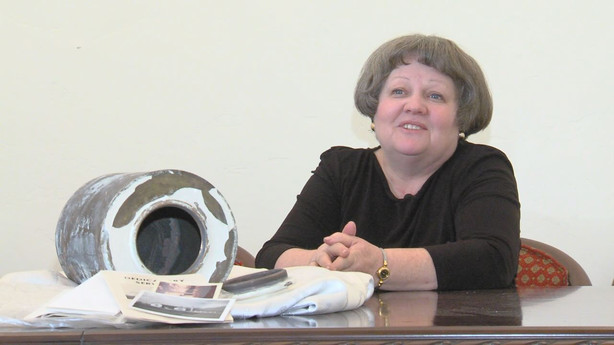 "There was just the sweetest feeling around this building," Bott said.
Restoring the building quickly became a family project, and a project it was! Floors had to be replaced and the exterior required a significant facelift.
"We always said it's like a grand old lady, who just needed a new dress!" Bott said.
In August, while installing a new front door, they came across what they thought was a bolt supporting the structure.
"We brought in our plumber, our contractor. Every person that came in we asked them, 'What do you think it is?'" said Ryan Bott, who found the object in the wall. "I'm expecting this big bolt to come out of the wall, and instead the lid came off and it revealed it was a time capsule. "
Inside the capsule, from 1964, was a program and picture from a 1937 re-dedication ceremony, with presiding authority, LDS Church President Heber J. Grant. It also contained lists carrying the names of church members, even Primary children, who attended that day.
For the Bott family, it's a reminder of the history housed in this special space.
"This is my favorite room," Jennie Johnson said, showing off one of the newly restored areas. "(It) was the chapel when we purchased the building, but we knew this is what we wanted to make the grand ballroom."
Johnson, who is part of the new Stone Gate Center's staff, added that it's "a place where we can help make other people's dreams come true."
In addition to the reception center, the Stone Gate Center includes an art school, a dance studio, and a preschool with a focus on the arts.
Beginning Friday, they will also host a live nativity event for kids and families.
E-mail: bwalker@ksl.com
×
Photos
Related Links