ASPEN PARK, Colo. — A paralyzed kitten has been given a second chance at life after a high school robotics team built her a cat cart to help support her hind legs.
Flipper, a 9-month-old long-haired domestic cat, was taken to the veterinarian a few months ago with a twist in her spine that left her paralyzed. The Aspen Park Veterinary Hospital, a regular donor to a local high school's robotics club, approached the club about developing a cart for the cat.
After a few months and multiple prototypes, robotics club members at Conifer High School in Conifer, Colo., came up with something they thought would work.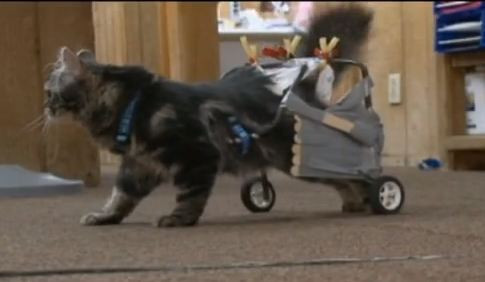 "We ended up with a two-wheeled design with a harness, like a two-wheeled chariot," Christian Debrunner, a sponsor of the club, told the Denver Post.
Flipper wears the harness for about two hours a day and moves around with it until she is out of breath, according to ABC 23. The cat kicks her legs to help propel the harness forward, and vets at the hospital said they have seen her strength increase.
The hospital is hoping the cat's spine will eventually loosen up, allowing her to get around on her own. They plan to adopt her as they help her throughout her recovery.
×
Related Links