This archived news story is available only for your personal, non-commercial use. Information in the story may be outdated or superseded by additional information. Reading or replaying the story in its archived form does not constitute a republication of the story.
SALT LAKE CITY — An unusual freezing rain turned driving conditions treacherous and contributed to multi-vehicle crashes along parts of the Wasatch Front Thursday, including several that involved UHP troopers.
Icy conditions even closed down all runways at the Salt Lake City International Airport. Indoor facilities remain closed, though planes are unable to take off.
A Frontier plane slid down the taxi way at one point during the morning, according to Barbara Gann with the Salt Lake airport.
Whether on freeways or surface streets, motorists found many roads that looked fine were actually extremely slick.
Hundreds of road accidents took place in the first half of the day, with 128 incidents of property destruction, 25 personal injury incidents, and eight slide-offs in Salt Lake County alone. Utah County saw 24 accidents, two incidents of personal injury and a slide-off before noon, according to the Utah Highway Patrol.
In the 6 a.m. hour, at least eight vehicles were involved in one chain-reaction crash on southbound I-15 at 1000 South in downtown Salt Lake City.
The first accident that injured a trooper occurred just after 6 a.m. on southbound I-15 near 1000 South. The trooper was out of his vehicle at the time handling the crash when he and his vehicle were struck by a car that was "driving too fast for the icy conditions," said UHP Cpl. Todd Johnson. The trooper's injuries did not appear to be life-threatening, though he did receive stitches for a cut on his hand.
The second crash occurred around 8:30 a.m. on northbound I-15 near 5300 South when a northbound vehicle, also traveling too fast for conditions, hit the rear end of a trooper's vehicle while the trooper was inside. That trooper was transported to the hospital as as precaution, Johnson said.
Information about freezing rain
Since 1940, there have been only nine measurable freezing rain events (0.01 inches or greater) at the Salt Lake City International Airport
None of those events occurred with temperatures lower than 26ºF. Thursday's began at 20ºF.
The latest accumulation (0.08 inches as of 11 am) is the largest freezing rain accumulation since Dec. 31 1983.
There are only three events that top this one in terms of freezing rain accumulation:

0.13 inches that fell at 32ºF on Feb. 9, 1976
0.16 inches that fell at 29–32ºF from Dec. 26-27, 1983
0.21 inches that fell at 30–32ºF from Dec. 30-31, 1983 (.11" of this fell as heavy sleet) Courtesy of Trevor Alcott
The third crash involving a trooper was near Springville in Utah County at 9:10 a.m. where the officer was assisting a vehicle that had slid off of the road near the I-15 southbound off-ramp. The trooper was in an emergency lane with his lights activated when a vehicle exited too quickly and slid into the rear of his car, pushing it into a pickup truck that had also come to help.
The rear of the trooper's vehicle was struck while he was inside. He received minor injuries to his back and neck, but was not transported to the hospital.
Another multi-vehicle accident temporarily closed southbound I-15 at the north interchange around 6:45 a.m. That part of the freeway has since reopened.
Crews responded to a multi-vehicle wreck on southbound I-15 near Park Lane in Farmington that happened in the 8 a.m. hour.
Officials said the freeways aren't the only roads impacted. Multiple accidents are reported on side streets, as well. For example, listeners report to KSL Newsradio a five-car pileup on northbound Redwood Road near 9800 South.
In Sardine Canyon, northbound lanes are closed due to weather conditions.
The freezing rain initially affected mostly the downtown and western parts of Salt Lake County, and from South Salt Lake to Davis County. But then it spread to the southern and eastern parts of the Salt Lake Valley and into parts of Utah County.
Provo police tweeted, "Please slow down when coming into Provo. We are inundated with traffic accidents due to black ice." Orem police reported 25 accidents Thursday morning.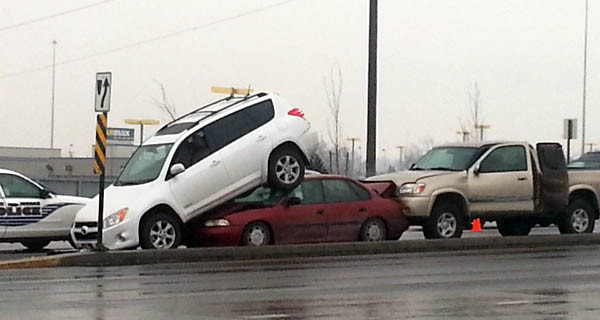 Many drivers found the roads deceptive. Some vehicles crashed at speeds of only 20 miles per hour. UHP's Dwayne Baird said motorists who are involved in minor traffic accidents should drive to the nearest exit then report the accident.
UHP recommends drivers give themselves triple the normal room to stop. Those who do not need to drive Thursday morning are advised to stay home or delay their commute by up to a couple of hours.
A UDOT news release said generally major road conditions are as follows:
South Davis County/Salt Lake City
Icy, very slick
North Davis and Weber counties
Light snow; normal traction prevalent
Box Elder and Cache counties
Very slick and icy
"Use extreme caution, lengthen stopping distances, drive defensively," it said. KSL Meteorologist Grant Weyman called Thursday one of the strangest weather mornings he's ever seen, because freezing rain is so unusual. He said a rule of thumb is to look at your thermometer. If it's reading in the 20s and precipitation is falling, then it's probably freezing rain.
"A lot of people, they see the fog and call that the inversion, but that's actually not accurate," Weyman said. "It's warm air above cold air. What warm air above cold air will do is trap whatever is in there. So if there's haze, if there's smog, it just gets trapped."
---
So many problems and accidents (are) popping up that we just can't tweet them all.
–KSL Traffic Center
---
He said Utahns had seen this inversion for the past 10 days and when it started to rain in the upper, warmer air, it came through and hit the cold valley air, creating freezing rain.
He said Ogden and points north are now getting snow. Get his forecast here.
Jordan School District delayed buses transporting elementary school age children by as much as an hour, spokesman Steve Dunham said. High school and middle school students had already been dropped off when the decision was made by school officials working, with input from local municipalities, to delay transportation for younger children around 8:30 a.m.
"We have several road closures out in the district and we have very, very slick conditions," Dunham said. "For the safety of the elementary children, we need to stop our buses and keep them sidelined for at least an hour."
Dunham said parents were notified via Facebook, Twitter and the district's sky alert system so they could retrieve any waiting children from bus stops. By 9:15 a.m., the district reported that buses were back out and all tardy students Thursday morning would be excused.
Get traffic updates every 10 minutes on the nines and check commute times on the home page of ksl.com.
Contributing: Randall Jeppesen, Emiley Morgan
×
Photos
Related Links